YUKI CHERRY BLOSSOM™
DEUTZIA
Dr. Tom Ranney of North Carolina State University spent ten years developing Yuki Cherry Blossom™ Deutzia. Working with the classic Deutzia 'Nikko' and numerous pink flowered (but large) varieties, he crossed and back-crossed plants in the search for a dwarf, pink flowered cultivar. It required multiple generations of careful breeding, but finally he was able to produce a plant with saturated pink flowers.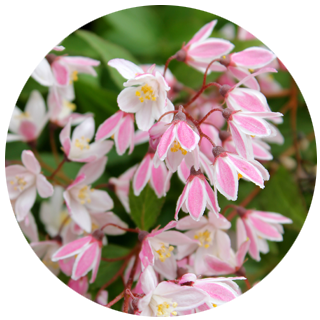 AN ADAPTABLE
GARDEN PLANT

Hardy to zone 5, Yuki Cherry Blossom™ grows well in full sun and partial shade. Deutzia is not favored by deer and will tolerate clay soil and alkaline conditions. Although it prefers moist, well-drained soil, it will also tolerate some drought once established. This plant requires very little care other than some light pruning after flowering, if desired.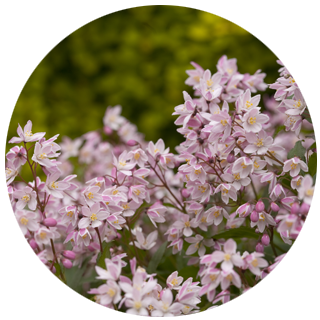 GREAT FOR
MASS PLANTINGS
Yuki Cherry Blossom™ Deutzia is ideal for covering large areas or for use as edging along a pathway. The plant forms a low-growing mound with arching branches that grow densely together, acting as a weed-suppressing groundcover. Its smaller, tidy habit also makes it an attractive, low maintenance plant for growing in containers.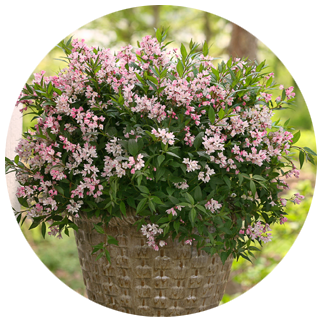 cheerful yuki
cherry blossom™
Distinctive pink flowers in spring
Plants are loaded with blooms
Tidy, mounded plant
Petite size leads to versatility in containers and smaller landscapes
Rich burgundy fall foliage color
Excellent deer resistance
Measures 12-24" tall and wide
Returns reliably each year in zones 5-8
CARE TIPS
Plant Yuki Cherry Blossom in full sun to part shade. More flowers will be produced with more sun exposure, but plants may need some afternoon shade if you are gardening in the south.
You do not need to prune your Yuki Cherry Blossom to keep its shape. However, if you would like to trim off a branch or two, you should do so immediately after the plant finishes blooming. This will ensure you do not accidently cut off next year's flower buds.
Feed your deutzia each spring when new growth appears. Use a balanced plant food made for shrubs such as Espoma's Rose-tone.
Yuki Cherry Blossom prefers average moisture amounts, which means about an inch of water per week. You will know you are not watering it enough if the leaves start to turn brown. Try to water it before this happens so its growth momentum is not disrupted.
Yuki Cherry Blossom™ 'NCDX2' Deutzia
USPPAF CanPBR5079