DOLCE® 'WILDBERRY'
HEUCHERA
'Wildberry' is always in season!
Bold purple, glossy foliage is evergreen in most climates
Creamy white flowers with rosy accents
Attracts pollinators like butterflies and hummingbirds
Works in flower beds and containers
Grows in sun and shade
Measures 10-14″ tall x 16-20″ wide
Native perennial for USDA zones 4-9
Pronounced "HUE-ker-ahh"
Looking for a perennial you can use in your landscape designs and containers year after year? This versatile variety of berry purple coral bells can find a home just about anywhere in your garden. Its tidy, mounding shape lends itself well to growing along a pathway or at the front of your border where it can provide a bright pop of color all season.
If heavy clay soil is your nemesis, consider growing Dolce® 'Wildberry' and all your coral bells in containers or raised beds where they will benefit from good drainage. Their fun foliage plays perfectly against flowering annuals and grasses in large patio pots. They also shine all on their own in colorful glazed containers.
HOW TO GROW DOLCE® 'WILDBERRY' HEUCHERA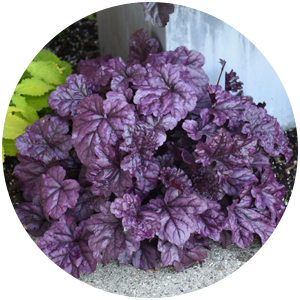 Planting
Where to plant coral bells depends somewhat on where you live. In colder climates, darker-leaf varieties like 'Wildberry' can easily tolerate all-day sun if the soil stays moist. But in warm climates, that same plant would get a sunburn if you left it out in the sun all day. Once you've grown coral bells, you'll get a feel for where they work best in your garden.
To be safe, choose a spot in part shade that sees 4 to 6 hours of morning sun and has some protection during the hottest part of the day. The foliage color will be brightest in such a setting, though 'Wildberry' will also retain its color nicely when grown in full shade.
Coral bells enjoy having moist soil around their fibrous roots, but they detest sitting in standing water so make sure to choose a spot where the soil is well-drained. If the roots sit wet for too long, especially in the winter, they tend to rot, and the plant suffers. Amending your soil with compost, humus or shredded leaves can help improve the drainage.
If you live someplace where the ground freezes in winter, try to plant your new coral bells by early summer to give the plant plenty of time to anchor its new roots into the soil. If you live in a more mild climate, you can safely plant your coral bells in the spring and fall.
If the roots are densely circled around when you take the plant out of the pot, loosen them up with your fingers a bit to break the "root memory". This will encourage them to grow outward instead of continuing to grow in a circular pattern.
Set the plant in the hole, making sure that the top of the root ball is level with the top of the surrounding soil, then backfill the hole. Press it down with your hand firmly to eliminate any big air pockets around the roots. Finally, water the plant to help the soil settle around the plant.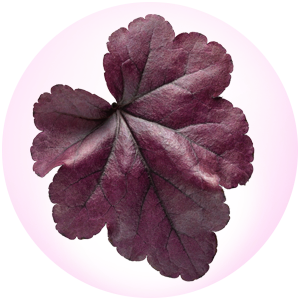 Maintenance
Once you have your Dolce 'Wildberry' coral bells planted in the right place, it won't take much to keep it looking great. The first season while it is getting established, it will need a little more water than in subsequent years. Once the roots are better developed, they will be able to seek the available moisture from the soil, making the plant more self-sufficient.
Before winter arrives, add a layer of mulch around the base of the plant to help protect the roots. Mulch keeps the soil temperature more even and can prevent the plants from heaving out of the ground during the freeze/thaw cycles that are common in the North.
During the growing season, the only pruning that is needed is clipping off the spent flower stems to tidy up the look of the plant. At the end of the season, do not cut the foliage of your coral bells off, as this can be detrimental to its winter survival. This plant is evergreen in most climates. In the spring, a whole new set of leaves will cover up the old ones. If there are a few tattered old leaves you'd prefer to remove, do so after the plant starts putting out its new leaves in the spring. You can help it along by scratching some of Espoma's Plant-tone® slow release fertilizer around the root zone at that time. No other feeding should be necessary.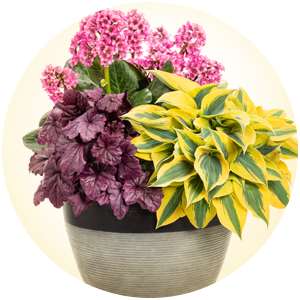 Companion plants
Since Dolce 'Wildberry' coral bells can grow in both sun and shade, the possibilities for container recipes are vast. For partial to full shade conditions, try our In the Pink recipe which features three perennials with fantastic foliage. It's shown here in late spring when the 'Miss Piggy' pigsqueak is in full bloom and 'Autumn Frost' hosta is glowing yellow. But even after their prime season has passed, the luxurious textures and leaf shapes keep this planter interesting.
For a sunnier spot, this purplicious recipe will keep the color coming from spring through fall. We've combined Dolce 'Wildberry' with its cousin, Dressed Up™ 'Evening Gown' as the taller elements of this container. Violet Knight® sweet alyssum plays the roll of filler and spiller, while Silver Falls dichondra contributes long strands of shimmering silver foliage to the mix.
Dolce 'Wildberry' is fun to use in fall containers, too. Look how great it plays with the fiery red tones of ornamental peppers in pots.
TOP 3 REASONS TO GROW
DOLCE® 'WILDBERRY' HEUCHERA
MADE IN THE SHADE
Bright colors can be hard to come by in the shade, but this perennial brings it every day of the year.
VERSATILITY ABOUNDS
Put this plant to work! It'll grow in containers, line your pathway or spice up your garden beds.
EASY TO MAINTAIN
Other than giving this plant a drink when it's dry, this plant holds its own without supervision.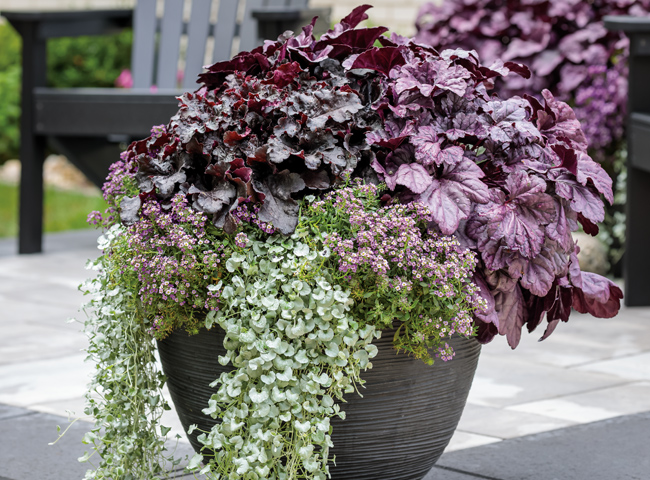 Love the look of Dolce® 'Wildberry' Heuchera? Look for it at your local garden center, or Shop Online.
Dolce® 'Wildberry' Heuchera USPP31222 CanPBRAF