HEART TO HEART® 'RASPBERRY MOON'
CALADIUM
Delightfully speckled raspberry and light green, heart-shaped leaves
Flashy foliage plant that shines in part shade to full shade
Grows beautifully in containers and landscapes
15-20" tall x 10-14" spread
Grown as an annual everywhere except USDA Zones 10-11
Pronounced "Cuh-LAY-dee-um"
Bring the beauty of the tropics home when you grow this splashy raspberry speckled caladium. Whether your goal is to create a relaxing vacation-like atmosphere on your deck or you're looking for something different for this year's window boxes, 'Raspberry Moon' is a perfect fit.
This plant's large, heart-shaped leaves help it pair easily with contrasting finer textured, shade loving plants like ferns and coleus, but you can expect it to steal the show as your container's centerpiece. Since it is grown for its flashy foliage that's colorful all season, you won't need to worry about sweeping any spent flowers off your porch or losing its vibrant color in the heat of summer.
How to Grow Caladiums
Whether you like to grow caladiums from bulbs or prefer buying sprouted caladium plants, we've got you covered with tips for successfully growing your caladiums. Just choose your preferred method below and follow the link to the instruction page.
Uses for Caladiums
Caladiums are incredibly versatile plants for all sorts of containers and garden beds outdoors. They also make fun houseplants to help you get through a few months of the winter blues. Here are a few ideas to get you started.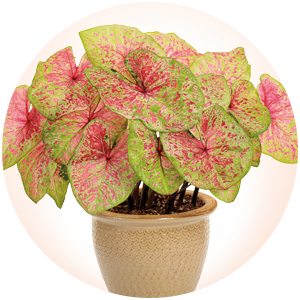 Containers
Heart to Heart caladiums make unique, bold "thrillers" in container recipes when paired with shorter, mounded to trailing plants. A container filled with lush caladiums is an amazing sight!
The speckles of 'Raspberry Moon' tend to range from raspberry red to rose pink. Pair it with Double Up™ Pink begonias to draw out the softer pinks or Infinity® Red New Guinea impatiens for a bolder pairing. Find dozens of caladium container recipes here.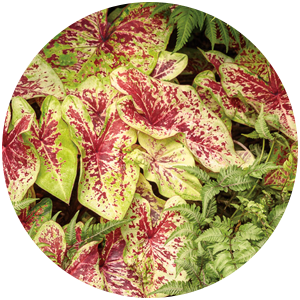 Garden Beds
Pep up your shade garden by poking a few caladiums in among your hostas, or mass a whole bunch in an underused area of your landscape. Their broad, colorful foliage makes a quick and striking impact.
Once established, caladiums need only average amounts of water similar to the rest of the plants in your garden. Take care to match the sun/shade preferences of your new caladium to the planting site. Since there are caladium varieties that grow in both sun and shade, it should be easy to find one that fits.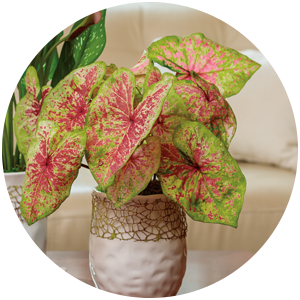 Indoors
Near the end of the season when outdoor temperatures begin to consistently fall below 60°F, it is time to move your caladium plants indoors if you want to keep them actively growing. It's possible to continue to grow them as a houseplant for at least a few months until they naturally enter a resting period.
Choose a place indoors that receives bright indirect light. Set the pot on a saucer filled with pebbles and water to keep the humidity up around the plant. Caladiums need humidity to thrive, so a bright bathroom might be the perfect spot for them.
If you purchase your caladium plant in the fall or winter, do your best to keep it warm until you get home and bring it right inside. Do not let it sit in your cold car for any amount of time. This is similar to how you should treat poinsettias.
top 3 reasons to grow Heart to Heart® 'Raspberry Moon' Caladium
IT'S FUN TO GROW
There's just something about seeing this plant unfurl its cute, heart-shaped leaves that'll make you love it to the moon and back.
IT LOVES HOT, HUMID WEATHER
When it's just about time for you to head indoors for some A/C, your caladium will start to kick into high gear. It loves those warm, sticky days.
IT LIGHTS UP IN THE SHADE
Here's a plant that won't just survive in the shade, it will thrive there. High filtered light is best, but it'll survive in some pretty shady places.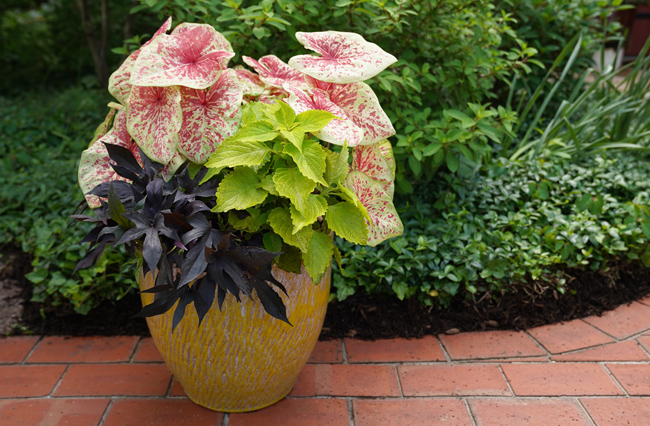 Heart to Heart® 'Raspberry Moon' Caladium hortulanum USPP 20,069