TRUFFULA™ PINK GOMPHRENA
GET READY FOR SEASONLONG FIREWORKS!
Combines good looks with grit
Playful pink blossoms explode with tiny rays of yellow
Blooms all season without having to remove spent flowers
Can be used in fresh and dried bouquets
Grows quickly to fill open spaces
Blooms best in 6+ hours of sun
Heat and drought tolerant
Pronounced "gom-free-nah"
Don't let its whimsical pink blooms fool you—this is one tough plant! The upright, airy structure of this unique annual acts as a vertical exclamation point wherever you plant it. Try it as a thriller in large containers or plant a whole mass of it in your landscape where you can watch it entice pollinating bees and butterflies to stop by for a midday snack.
You'll have plenty of flowers to clip and enjoy in long-lasting fresh and dried bouquets. One of their most unique features is that they dry nearly the exact same color as the fresh blossoms. So, no matter when you choose to clip them, they'll be beautiful in your arrangements.
Give this sizable annual plenty of elbow room to grow. It's fun to watch it flourish during the summer heat, keeping its foot on the gas and blooming non-stop from spring into fall. "Pretty perseverance" is this plant's mantra. Plan on your neighbors ringing the doorbell to ask, "What are those gorgeous flowers?"
top 3 reasons to grow truffula™ pink gomphrena
PROFUSE BLOOMS
If you want something that keeps its foot on the gas blooming over and over from spring into fall, this is the plant for you. You'll have plenty of flowers to clip for fresh and dried bouquets.
BIG BANG FOR THE BUCK
Don't let its dainty pink blooms fool you—this is one big plant! Be sure to give it some elbow room to grow when it hits its stride midsummer.
HEAT AND DROUGHT TOLERANT
Live in a hot climate where water is limited? Truffula Pink flourishes in heat and tolerates some drought.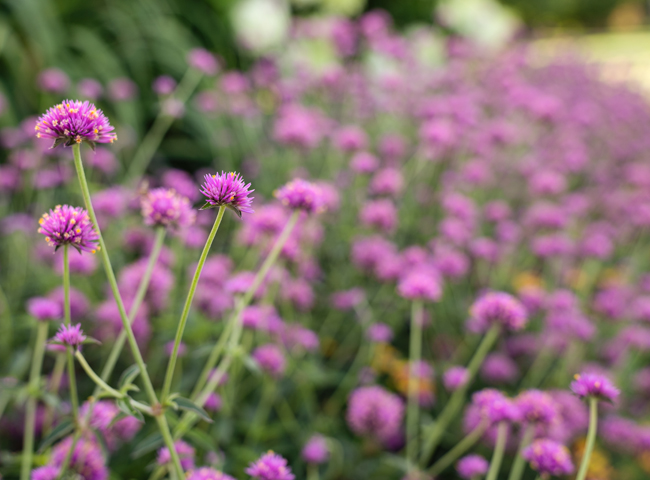 Truffula™ Pink Gomphrena pulchella 'PAST0517E' USPP 31,728, Can 6,276