LET'S DANCE CAN DO!®
HYDRANGEA
MACROPHYLLA X SERRATA
Yes, you CAN have reliable blooms every year!
Multiple flower buds produced on each stem
Flower parade begins in early summer
The fastest hydrangea to rebloom
Lacecap blossoms with starlike, double florets
Extra-cold hardy stems ensure blooms every year, even in zone 4
Suitable for growing in part sun to sun
Grows 3-4' tall x 3' spread
Hardy in USDA Zones 4-9
If you find yourself staring at an old hydrangea that never blooms in your garden, it's time for a change. Thanks to innovative new varieties like Let's Dance Can Do!, there are now reliably blooming bigleaf hydrangeas for gardens as cold as USDA zone 4. If you've been reluctant to try one, this is the place to start.
What makes it so reliable? This one-of-a-kind hydrangea produces flower buds along the length of the stem instead of just at the top. If the tip bud is damaged by cold, nibbled by deer or removed by pruning, there's plenty of backup buds waiting in the wings. Plus, Let's Dance Can Do! is the fastest hydrangea to rebloom so you won't need to wait until fall to see a second parade of its fanciful lacecap blossoms.
This is a hydrangea you'll be proud to show off near your home's front entrance or planted as a hedge bordering your patio. Its starlike, double florets pack the large flower heads but leave just enough fertile flowers for pollinators to enjoy too.
how to grow let's dance can do® hydrangea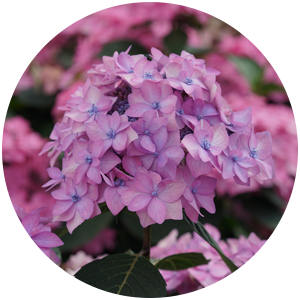 Planting
Let's Dance Can Do! is a hybrid of the bigleaf and mountain hydrangea species. It's been proven to survive winter well and rebloom in USDA zones 4-9. In cooler climates, this plant grows and blooms prolifically in full sun, but it will also flower in as little as four hours of direct sun. If you live in a warm climate, you will want to provide some shade during the hottest part of the day. No matter where you garden, this hydrangea will benefit from a 2-3″ layer of mulch to keep the roots cool and moist.
In an ideal world, Let's Dance Can Do! enjoys rich, acidic soil that remains consistently moist. Acidic soils free up the aluminum present in the soil and make the flowers bloom a beautiful periwinkle violet color. When the soil is alkaline, the plant is not able to absorb the aluminum as easily, so the flowers bloom strawberry pink. To turn its flowers more purple, scratch a product like Espoma's Soil Acidifier into the soil around the plant. Be sure to follow the package instructions for amounts and frequency.
Good drainage is important for hydrangeas even though they like the soil to stay consistently moist. If you garden in heavy clay, plant them in a raised bed or plant "high". Planting high means instead of positioning the shrub even with the ground level like you would other plants, dig a slightly shallower hole and position it so that the base of the plant is a bit higher than the ground. This encourages water to drain away from the plant rather than settling around it. Mulch well after planting.
​
If you wish, you may fertilize your hydrangeas in early spring once the ground has thawed. We typically use one formulated for roses since hydrangeas enjoy similar nutrients. Doing so will encourage them to start the season off strong. No additional feeding is necessary.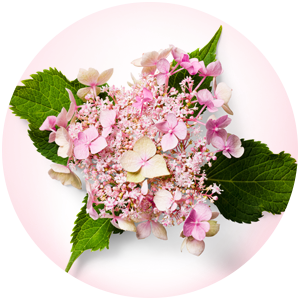 Pruning
Reblooming hydrangea varieties like Let's Dance Can Do! produce flowers on both old and new wood. That makes it tough to find a good time to prune them without sacrificing some flowers. We suggest that you avoid pruning reblooming hydrangeas altogether except to remove any completely dead branches in the spring once the plant starts to leaf out.
One common misconception about hydrangeas is that you can prune them to keep them shorter. Hydrangeas are not like other shrubs, such as boxwood or holly, which can be pruned to maintain a smaller size. If you prune your hydrangea down, it will quickly grow right back to its original size.
Instead, choose a place where your hydrangea can flourish without needing to be pruned to size. If you are working with established plants, it may be necessary to transplant them to a larger space and replace them with a smaller variety that won't outgrow that spot.
If, for some reason, you do need to cut your Let's Dance Can Do! hydrangea back, understand that you will be sacrificing some of the flowers when you do so. Do not cut the stems back by greater than 30% as doing so can produce soft, floppy growth.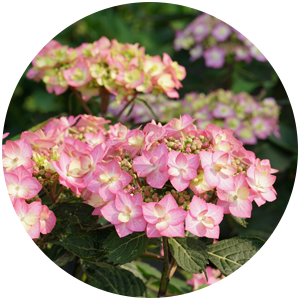 Companions
Which companions you choose to pair with your Let's Dance Can Do! hydrangea will depend on where you live. In the North where it grows best in full sun to light shade, you can choose sun-loving companions. In the South where it prefers some afternoon shade, you will want to pair it with more shade-loving plants.
Companions in the North: In cooler climates, this hydrangea produces the most flowers if you plant it in more sun where you'll get to enjoy them blooming in early summer, mid to late summer and fall. A few complementary sun-loving companions include 'Serendipity' Allium, Rainbow Rhythm® 'Storm Shelter' daylilies and Paraplu Pink Ink® rose of Sharon.
Companions in the South: In warmer climates, you'll like how this hydrangea grows with some shade during the warmest part of the afternoon. A skirt of Heart to Heart® 'White Star' caladiums would look lovely planted at its feet. ColorBlaze® Wicked Witch™ coleus, 'Dark Side of the Moon' astilbe, 'Crested Surf' painted ferns and Jazz Hands Variegated® Loropetalum make nice taller companions.
'Dark Side of the Moon' astilbe, 'Crested Surf' painted ferns and Jazz Hands Variegated® Loropetalum make nice taller companions.
"Purchased in 2021 this plant just kept blooming/reblooming all summer long! This year 2022 we have had a late COLD wet spring and in May I already have a lot of big buds all over it. Very vigorous! I have it in dappled shade and I can tell you I want more!"
-Robin, Kansas, United States
top 3 reasons to grow Let's Dance Can Do!® Hydrangea
INCREDIBLE FLOWER POWER
Since flower buds are set all along its stems, you're sure to see blooms even if the tips get damaged or removed. Plus, this is the fastest hydrangea to rebloom from summer into fall.
NO NEED TO REMEMBER WHEN TO PRUNE
Simply leave this hydrangea be and it'll produce continuous waves of blooms from early summer through fall.
PRETTY BLOOMS FOR YOU AND THE BEES
Starlike, double flowers join the fertile blooms in lacecaps, so there's something wonderful for everyone to enjoy.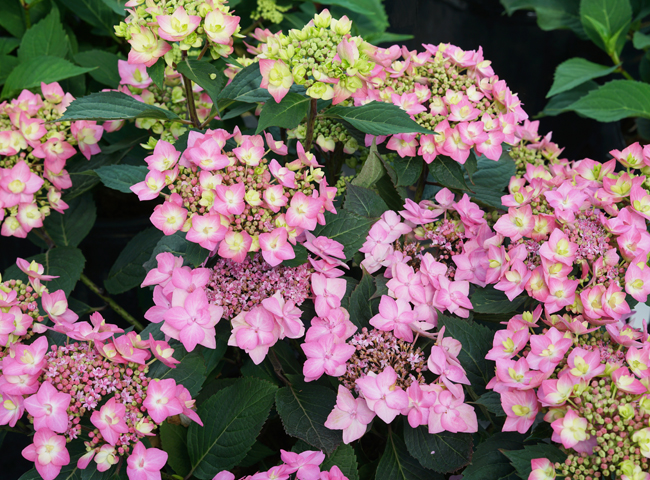 Let's Dance Can Do!® Hydrangea macrophylla x serrata 'SMNHSI' USPP 32,548, Can PBRAF