DOUBLE PLAY DOOZIE®
SPIRAEA
An Unforgettable Flower Show All Season
One of the longest blooming shrubs you can grow
Non-stop, hot pink-red blossoms from late spring to frost
Visited by pollinating bees and hummingbirds but deer walk right on by
Sets no seed and won't spread around your garden
Grows in full sun to part sun, but flowers best in 6+ hours of sun
2-3' tall x 2-3' spread
Hardy in USDA Zones 3-8
Pronounced "spy-RE-uh"
We're often asked to suggest hardy plants that are colorful from spring to frost and that can be quite a tall order. But Double Play Doozie® spirea is one of those rare plants that'll capture your interest from moment it springs back to life and its leaves emerge vibrant red.
By late spring, the foliage matures to bright green which makes the perfect backdrop for the hot pink-red flowers that bloom prolifically all over this rounded shrub. Unlike other spireas which stop blooming to set seed, this first-ever seedless selection just keeps right on flowering and won't quit until frost ends the show.
Since it grows only about the size of a clump of daylilies, it's easy to tuck this doozie of a spirea into all sorts of sunny places in your landscape for a little added color here and there. Or go big and plant a whole hedge! We'll show you how below.
how to grow double play doozie® spiraea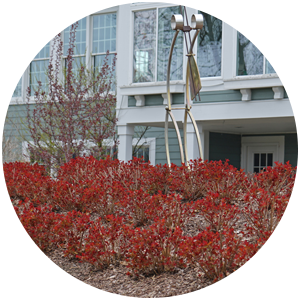 Planting
You're in luck! Double Play Doozie spirea is as easy to grow as it is beautiful. Choose a spot that receives at least six hours of sun per day if you want to maximize its flower power, or as little as four hours of afternoon sun for a show that's nearly as colorful.
One of the reasons spirea is such a popular landscape plant is that it isn't fussy about soil type. You can grow it pretty easily even if you have alkaline or clay soil. Since it is drought tolerant once established, you won't need to worry about watering every day. You may also be happy to hear that deer typically pass spirea right on by.
When planting, space your pots of Double Play Doozie spirea about 2 to 3 feet apart or slightly closer if you want them to grow together into a dense hedge. Dig the planting hole about twice as wide but just as deep as the container it is growing in. If the roots are densely circled around when you take the plant out of the pot, loosen them up a bit to break the "root memory". This will encourage them to grow outward instead of continuing to grow in a circular pattern.
​
Set the plant in the hole, making sure that the top of the rootball is level with the top of the surrounding soil. Then backfill the hole with the soil you dug out. Press it down with your hand firmly to eliminate any big air pockets around the roots.
​
Lastly, water the plant again to help the soil settle. Spread some mulch around the base of the plant, taking care to keep it from touching the plant's stems. The mulch will help to retain soil moisture and protect the roots during winter.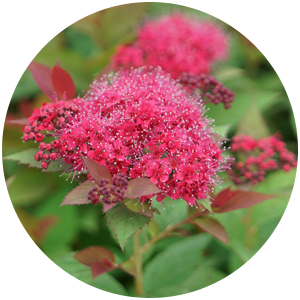 Pruning
Spirea is a plant you'll probably want to take a pair of hedge shears to once or twice per season, though it isn't required for the plant to rebloom. After the first big flush of blossoms is finished, give the whole plant a light trim to remove the spent flowers and encourage a new flush of bright red foliage. Since Double Play Doozie spirea doesn't set seed, you won't be shearing to remove seed heads, just to tidy up the plant. You could trim it lightly again later in the summer if it needed a little refreshing.
It's also a good idea every couple of years to remove the oldest, woodiest stems of your spirea, similar to how you prune a red twig dogwood. If you make that your standard practice, it will help the plant retain its fresh youth and vigor throughout its lifetime.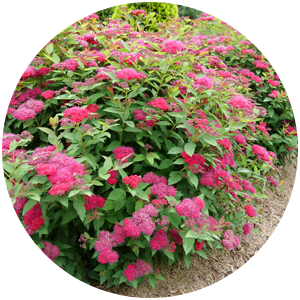 Companions
Due to its incredibly easygoing nature, there are endless uses for Double Play Doozie spirea. You could plant it as a short hedge around your patio with a row of sun-loving annuals like Superbena® verbena or fragrant Snow Princess® sweet alyssum in front. You might also scatter it throughout your garden beds to provide continuous all-season color when your perennials are out of bloom.
Choose companions that enjoy lots of sun and aren't too fussy about soil or needing constant moisture. The bright chartreuse foliage and arching shape of Tiny Wine® Gold ninebark offers striking contrast planted adjacent to Double Play Doozie spirea. Since it grows 3 to 5 feet tall and wide, it makes a good backdrop for the shorter spirea. For flowers early in the season, try a border of Spring Bling® creeping phlox in front.
"I planted three of these spirea late spring, last year. They settled in, grew a bit, but no blooms. This spring they really came to life. Each shrub is easily 3-4x's the size it was last spring; the foliage was beautiful early through mid-spring; the blooms started in mid-May and it's just been stunning."
-Marcia, Missouri, United States
top 3 reasons to grow Double Play Doozie® Spiraea
NON-STOP COLOR
This first-ever seedless spirea blooms continuously from late spring to frost, attracting pollinating bees and the occasional hummingbird along the way.
AN EASYGOING CONSTITUTION
There's a reason why spireas are so widely planted across North America—they are super easy to grow!
SO MANY USES!
Try Double Play Doozie spirea planted en masse as a flowering hedge around your patio, pepper it in among your perennials, or enjoy one in a pretty pot on your balcony.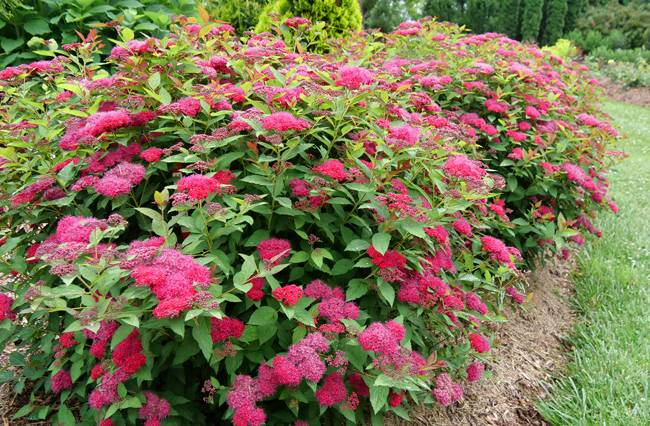 Double Play Doozie® Spiraea x 'NCSX2' USPP 30,953, Can PBRAF