SPILLED WINE®
WEIGELA
How Wine Lovers Paint Their Garden
Rich, velvety foliage forms a sumptuous textural backdrop for a bright floral bouquet of magenta pink blossoms that sing every spring. An updated, more petite look for weigela, it's the perfect choice for foundation plantings, edging landscape beds and planting en masse. Full-bodied looks and an easy constitution—that's Spilled Wine® weigela.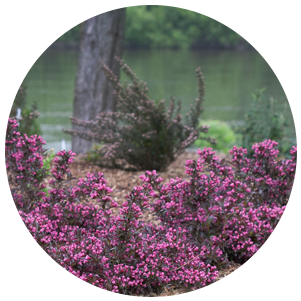 neat & petite
Put down those pruners! You won't need them with Spilled Wine® weigela since it grows just 2-3' tall. It's just the right height for planting under windowsills or lining the edges of low maintenance landscape beds. If you love Wine & Roses® weigela but it's just too tall, try this petite lookalike.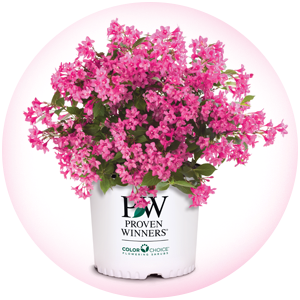 a distinguished choice
Dark wine red foliage all season
Loads of vibrant magenta pink flowers in spring
Attracts butterflies and hummingbirds
Not preferred by deer
Low mounding shape
Adaptable to most soil types
Grows in large containers and landscape beds
Grows 2-3' tall x 2-4' wide
Reliably hardy in zones 4-8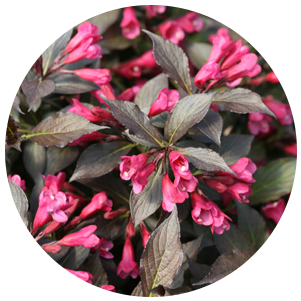 not-so complex care
Like a complex wine, Spilled Wine weigela embodies a certain richness and intensity that may look complicated, but there's really nothing to it. It even adapts to most soil types, including clay. Giving it 6+ hours of sunlight, average water (about an inch per week), and a bit of slow release tree and shrub fertilizer in early spring will do the trick. Not so tricky after all, is it?
top 3 reasons to grow
spilled wine® weigela
It will add all-season color to your all-too-green landscape
Imagine painting your landscape in foliage the color of your favorite vino. Plant Spilled Wine around your patio and invite your friends over for a tasting. Malbec, anyone?
Pollinators love Spilled Wine
Those vivid little magenta pink flowers that blanket the wine red foliage aren't just pretty. Butterflies and hummingbirds see them as food, and they'll happily oblige you with a show every spring.
You'll look like a pro, or at least like you hired one
The refined shape, texture and tones of this beauty persists all season without intervention. Don't be surprised to catch your neighbors checking out your Spilled Wine.