PRIMO™ 'BLACK PEARL'
HEUCHERA
Jet black, glossy, ruffled foliage
Long lasting, light pink cut flowers
Attracts pollinators like butterflies and hummingbirds
Vigorous, densely mounding shape
Versatile – grows in landscapes and containers
Naturally heat and humidity tolerant
Measures 8-10" tall x 26-30" wide
Native perennial for zones 4-9
a low maintenance, high drama queen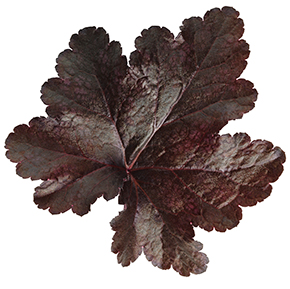 GROWING & PRUNING
Coral bells like Primo 'Black Pearl' tend to grow best and have the prettiest coloration when grown in part sun, meaning 4-6 hours of direct sunlight per day. In very warm climates, full shade may be necessary. In cooler zones, it will grow in full sun if given adequate moisture. Primo 'Black Pearl' will keep its dark coloration even in full sun conditions.
Good drainage is essential to overwintering coral bells successfully. If necessary, amend your soil with compost or humus when planting to improve the drainage. Mulching them in fall will help to keep the soil temperature more consistent over the winter which prevents heaving from freeze/thaw cycles that are common in the north.
Heuchera villosa cultivars like Primo 'Black Pearl' are naturally tolerant of hot, humid climates since the species is native to the Southeast U.S. They appreciate average amounts of moisture—err on the side of too dry rather than too moist to prevent rotting. Drier soils will also help to keep slugs at bay.
Primo 'Black Pearl' will be evergreen to semi-evergreen in your garden depending on your climate. Never cut the foliage back in fall. Rather, trim away any of last year's tattered foliage in early spring. New leaves will emerge from the center of the clump in spring and cover last year's set of leaves.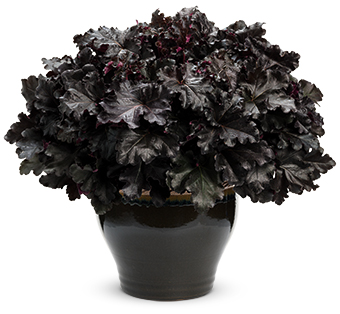 Upright containers
Coral bells like Primo 'Black Pearl' can be grown in containers, but keep in mind that it grows notably larger than standard varieties, so give it plenty of room to show off. If growing it on its own, choose a container that is at least 10" in diameter and 8" deep. If you plan to pair Primo 'Black Pearl' with other plants in a combination recipe, you'll need a much larger pot, at least 18" in diameter.
Since Primo 'Black Pearl' is so flexible about where it can grow, there are loads of options in what to pair it with in a container. Just be sure that everything you choose likes to grow in the same conditions. Choose colors that will contrast with its jet black foliage like chartreuse, silver and orange, or go for a more monochromatic look by choosing soft purples and indigo planting partners.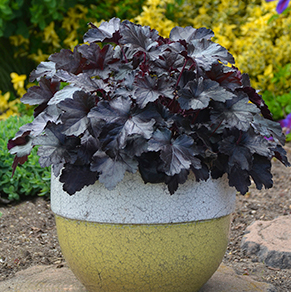 Since Primo 'Black Pearl' has a mounding shape, use it as a "filler" in the combination container, then surround it with trailing "spillers" and add an upright "thriller" to complete the look.
If you'd like to save your Primo 'Black Pearl' Heuchera for next year, plant it in the landscape about 4-6 weeks before the ground freezes to give its roots enough time to anchor themselves in. If you garden in zones 6b-9, you should have luck overwintering coral bells in containers above ground in a cool, dry, sheltered location.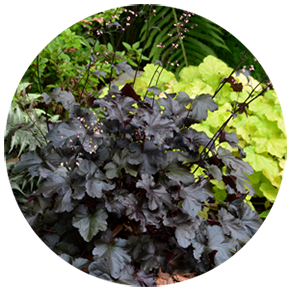 LANDSCAPES
Primo 'Black Pearl' is a gem in the landscape. Its relatively short, mounded stature earns it a place near the front of the garden border where it won't be lost behind taller plants. Try growing it in front of smaller hydrangeas like those in the Cityline® or Let's Dance® series, beside colorful Leading Lady or Pardon My bee balm, or paired with other Primo™ or Dolce® coral bells.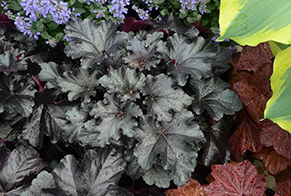 Dark colors like the jet black foliage of Primo 'Black Pearl' tend to draw the eye in the landscape, especially when backed by silver, white or chartreuse foliage. Use this color in moderation to draw attention to special areas of your landscape, such as around a seating area, bird bath or entrance.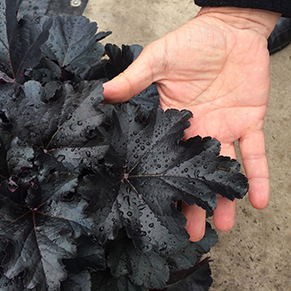 Light pink flowers will appear in midsummer on 18-20" stems, a delight for butterflies and hummingbirds. They are long lasting in fresh bouquets, so be sure to pick a few to enjoy indoors. Removing the spent flower scapes isn't required, but will help the plant maintain a tidier appearance.