VOLCANIC ON MILKY BLUE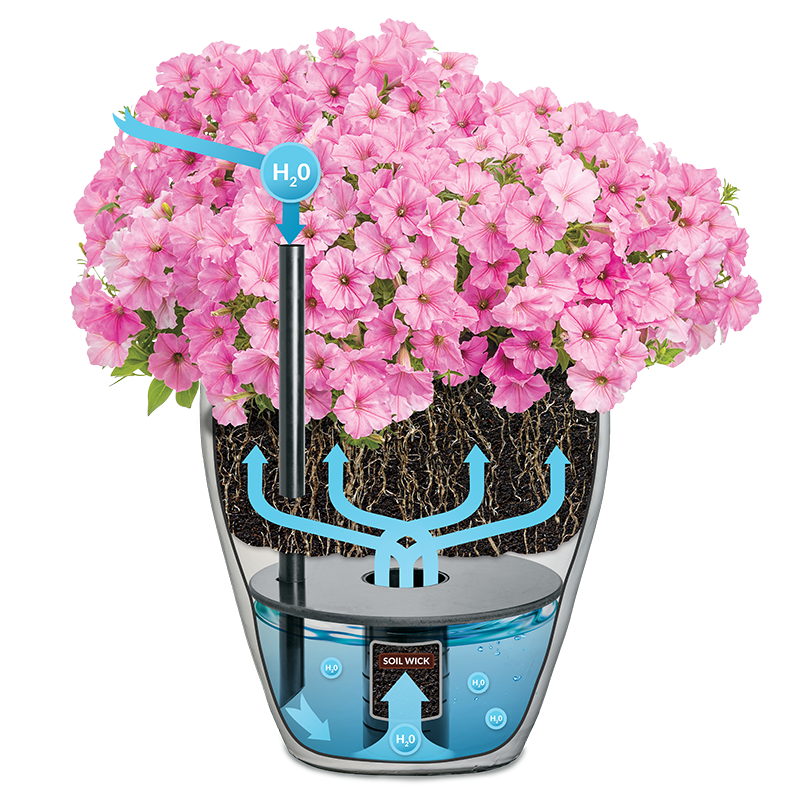 Enjoy the beauty of luxury quality ceramic with the convenience of a self-watering planter.
Travel without worry of your plants drying out; refill the reservoir just once per week.
An overflow valve ensures your plants cannot be overwatered.
Save water! AquaPots use only 25% of the amount of water compared to similar containers on drip irrigation.
Eliminate fertilizer runoff since the self-watering system is completely enclosed.
Grow beautiful, healthy plants due to consistent moisture and feeding when you add continuous release plant food into the water tank.
Frost and freeze resistant ceramic pots can be kept outside year round in climates that don't freeze or can be turned upside down and left outside for winter in the North.
You've trusted Proven Winners to bring you exceptional garden plants for 30 years. Now, let us help you go one step further with our smart, stylish, self-watering AquaPots!
These are the first and only premium quality glazed ceramic self-watering pots you can buy. Not an insert—this is a complete system integrated right into each container. Handcrafted by artisans at Michael Carr Designs Pottery of Vietnam, AquaPots are made using time tested techniques in old-world kilns that give each piece its own special character.
AquaPots are the invention of award-winning landscape architect Jack Barnwell of Barnwell Landscape and Garden of Mackinac Island, MI and C3 Gardens of Naples, FL. After seeing the need for gorgeous, premium quality, self-watering containers for his customers, he designed and tested his AquaPots for nearly a decade on properties from Alaska to the Florida Keys with magnificent results. We are proud to offer these amazing pots to home gardeners across the United States.
INTRODUCING AQUAPOTS
See how AquaPots can help your plants flourish while saving you time, water and worry about overwatering in this helpful video.
Volcanic on Milky Blue Planter
Choosing this year's AquaPot of the Year was a snap since it is everyone's favorite color! There's something about these cerulean blue tones that transport you right to your favorite beach destination and remind you of your happiest days. A natural sandy texture laps at the smooth blue ceramic, mimicking the ocean's waves.
These cool blue and neutral ceramic tones pair beautifully with soft pastel and white blossoms, but also shine in contrast to sunny yellows, chartreuse and royal purple. Once displayed on your patio, you'll notice how the soft blues echo the color of the sky, creating a harmonious vibe as you relax and enjoy a cold glass of lemonade. There's plenty of time to chill when you don't need to water your containers every day!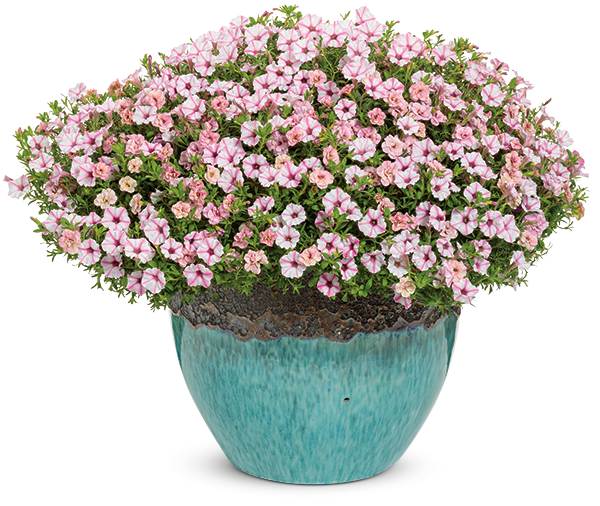 Available in two styles:
Flat Rim Round – 21" and 16" diameter
Tall Round – 18" and 15" diameter