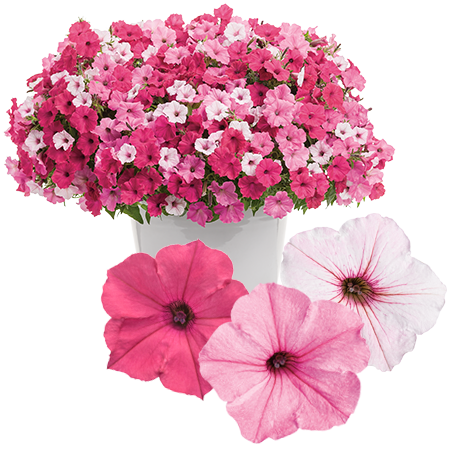 ABOVE & BEYOND RECIPE
Fabulously pretty in pink, this recipe includes three of our most vigorous, and popular Supertunia petunias. This hanging basket or upright container recipe will grow into an enormous mass of blooms that isn't for the faint of heart.
Give it plenty of room to flaunt its flirty blooms and a strong support from which to hang from or set on. Provide full sun to light shade, water and feed it regularly, give it a haircut in midsummer, and you'll have lasting color from spring into fall.
Supertunia® Vista Bubblegum® Petunia
Bubblegum pink blooms blanket the branches of this legendary petunia which has been selected as the 2017 Annual of the Year.
Supertunia® Vista fuchsia petunia
Now even more vigorous, you won't believe how big this fuchsia pink beauty will grow.
Supertunia® Vista silverberry petunia
A pop of white petunias with pale pink throats adds balance to this saturated pink container recipe.
option 1:
plant your own combo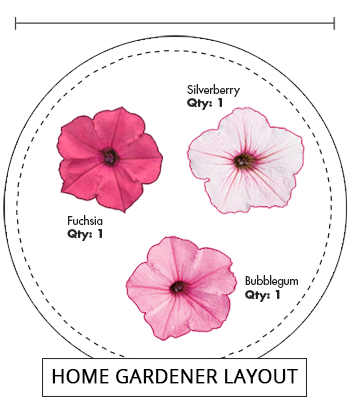 1x Vista bubblegum
1x vista fuchsia
1x vista silverberry
Tip For Success:
When should you water? For containers, it's best to soak them once a day, maybe twice in extreme heat. Landscape plants that are surrounded by mulch require about an inch of water each week. For both, water in the morning and near the roots rather than directly over the foliage of the plants.
*This recipe assumes that 4.5″ plants are being used. To make the recipe work using larger plants, you will need to choose a pot that is larger than our suggested size or use fewer plants of each variety in the recipe.

option 2:
purchase a combo to go
The Above and Beyond recipe is widely available at retailers across North America. Look for it in hanging baskets and upright patio pots at your favorite local garden center. Don't see what you're looking for? Request it by name next time you shop.
option 3:
purchase plants online

Supertunia® Vista Fuchsia
Improved Petunia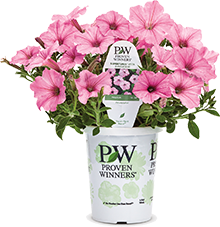 Supertunia® Vista Silverberry
Petunia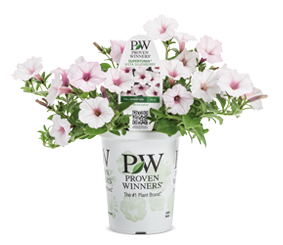 Supertunia® Vista Bubblegum®
Petunia