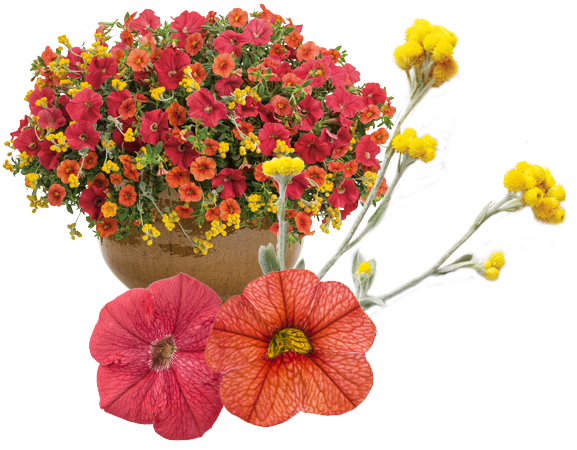 BACKYARD BBQ RECIPE
Need a little something to spice up your outdoor entertaining spaces? Try this heat tolerant, sun loving recipe which blends summery reds, oranges and yellows to set the perfect mood. Keep it watered and fed through the summer months and it will sail right on through fall in brilliant color too.
flambe® yellow chrysocephalum
Enchanting sprays of bright yellow, button-like blooms dot the silvery foliage of this drought tolerant annual all summer long.
superbells® dreamsicle™ calibrachoa
A blend of juicy orange blooms dot the stems of this popular Superbells from spring into fall.
Supertunia® really red petunia
True red is tough to come by in high quality petunias, but this improved selection exceeds all expectations for vivid color and vigor.
option 1:
plant your own combo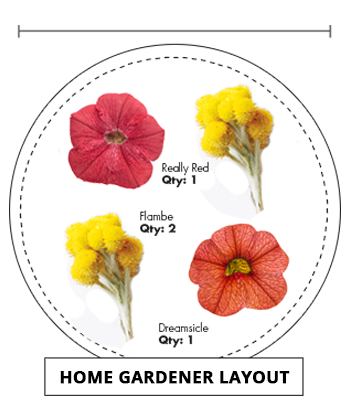 2x FLAMBE YELLOW
1x REALLY RED
1x DREAMSICLE
Tip For Success:
When should you water? For containers, it's best to soak them once a day, maybe twice in extreme heat. Landscape plants that are surrounded by mulch require about an inch of water each week. For both, water in the morning and near the roots rather than directly over the foliage of the plants.
*This recipe assumes that 4.5″ plants are being used. To make the recipe work using larger plants, you will need to choose a pot that is larger than our suggested size or use fewer plants of each variety in the recipe.

option 2:
purchase a combo to go
The Backyard BBQ recipe is widely available at retailers across North America. Look for it in hanging baskets and upright patio pots at your favorite local garden center. Don't see what you're looking for? Request it by name next time you shop.
option 3:
purchase plants online