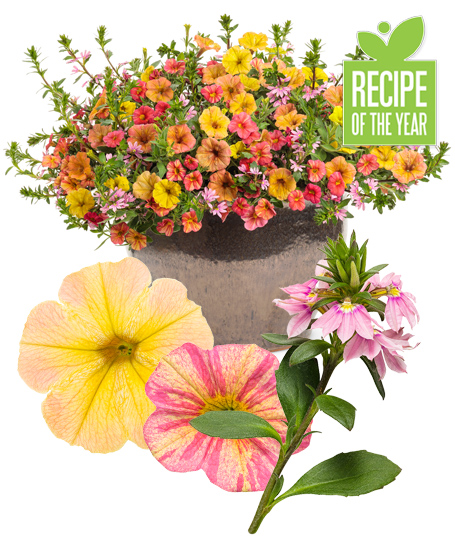 BEACHSIDE DRIVE RECIPE
Do you like to watch your garden grow and change through the seasons? If so, this recipe is one you'll want to plant where you will see it every day. No two blooms of this Supertunia and Superbells are exactly alike and new flowers open daily for your viewing pleasure. Watch Supertunia Honey's blossoms as they transform from warm gold in spring to a soft peach and then intense coral as the season progresses. There's always something exciting to see on Beachside Drive. You might even spot a hummingbird stopping by for lunch!
*Best in full sun (6+ hours of sun) to light shade
Superbells® Tropical Sunrise Calibrachoa
Have you ever caught the sun's rays streaming down upon the horizon at sunset? All of those warm, lush colors are present in this tropical beauty. It is the perfect bridge between the pink shades of Whirlwind Pink and gold tones of Supertunia Honey. Expect it to have a mounded shape early in the season before trailing down along the sides of the pot for the rest of the summer.
Supertunia® Honey™ Petunia
Forming the base of this beachy summer recipe is a kaleidoscopic petunia that transforms through the seasons. Golden hued blooms begin to blush a peachy hue in summer followed by bright coral tones that will nearly match its Superbells companion. Mounded plants in spring expand in summer to trail alongside its neighbors.
Whirlwind® Pink Scaevola
The finely textured foliage and narrow-petaled flowers of this little beauty bring just the right amount of contrast between the two round-flowered components of this recipe. Though it may appear delicate, this is one of the most durable annuals you'll grow. Expect its stems to pop in and out every which way in the container before eventually becoming more trailing.
option 1:
plant your own combo
2x superbells® tropical sunrise
2x supertunia® honey™
2x whirlwind® pink
Tip For Success:
When should you water? For containers, it's best to soak them once a day, maybe twice in extreme heat. Landscape plants that are surrounded by mulch require about an inch of water each week. For both, water in the morning and near the roots rather than directly over the foliage of the plants.
*This recipe assumes that 4.5″ plants are being used. To make the recipe work using larger plants, you will need to choose a pot that is larger than our suggested size or use fewer plants of each variety in the recipe.