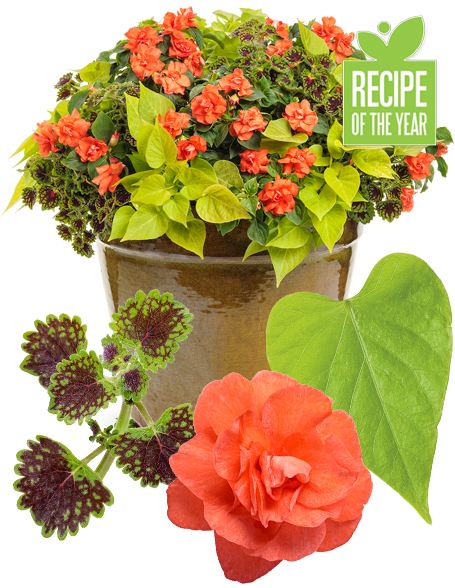 ECLIPSE OF THE SUN RECIPE
In the cool shadows of tall trees, a quick way to warm up the feeling of the space is to bring in passionate colors like fiery orange and deep red. The delicate double blossoms of Rockapulco Orange invite people over for a closer look while robust stems of trailing coleus and sweet potato vine lay the groundwork for a fabulous container recipe. Plant up a matching pair in hanging baskets for your front porch or grow one as a focal point in a striking upright urn on your shaded patio.
*Best in part shade (4-6 hours of sun)
Rockapulco® Orange Impatiens
Miniature rose-like flowers adorn this charming, shade loving plant from spring until frost, and since they are self-cleaning, there's no time wasted picking off spent blossoms. Its mounded shape is relaxed just enough to let ColorBlaze Chocolate Drop coleus weave its way through but tall enough to act like frosting on top of the container.
Proven Accents® Sweet Caroline Sweetheart Lime Ipomoea
With a bit more restrained vigor than some giant sweet potato vines, this selection is the perfect accent needed to knit together all the other ingredients. Its trailing stems will grow fuller and extend about two feet long—short enough not to need pruning off the ground. If needed, a few of its stems can easily be pinched out to make more room for its companions as the season progresses.
ColorBlaze® Chocolate Drop Solenostemon
You will find this friendly coleus popping in and about to check on its container companions. A few stems will reach skyward through the other plants, but most will find their way cascading down the sides of the pot. During brighter times of day when the sun hits the foliage just right, the color will appear dark red. In darker times, the little leaves will look like sumptuous bits of dark chocolate.
option 1:
plant your own combo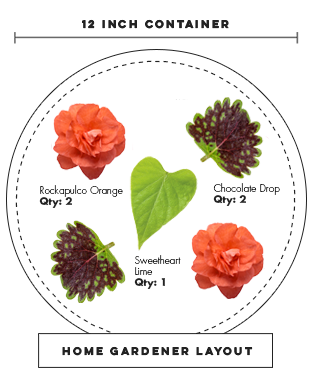 2x rockapulco® orange
2x chocolate drop
1x sweetheart lime
Tip For Success:
When should you water? For containers, it's best to soak them once a day, maybe twice in extreme heat. Landscape plants that are surrounded by mulch require about an inch of water each week. For both, water in the morning and near the roots rather than directly over the foliage of the plants.
*This recipe assumes that 4.5″ plants are being used. To make the recipe work using larger plants, you will need to choose a pot that is larger than our suggested size or use fewer plants of each variety in the recipe.