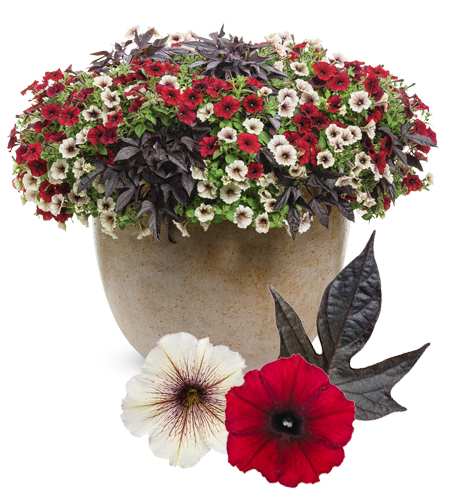 2018 national spring recipe
enchanted garden recipe
The National Fall Recipe reflects the moodiness of the season with its dramatic deep red, near-black and dark-veined ivory tones. Cool weather tolerant Supertunia® petunias continue to thrive without deadheading throughout the fall months, accented by trailing dark sweet potato foliage. Seriously elegant is the best way to describe this enchanting recipe. 
Supertunia® black cherry™ petunia
Cool weather draws out jewel tones from the landscape, and this deep garnet red petunia fits right into the season's color palette. It provides a perfect pop of color to this otherwise color-neutral recipe. Expect velvety blossoms on mounding to trailing stems throughout the fall months. 
Supertunia® latte™ Petunia
With colors to match your favorite streaming hot beverage on a cool morning, there's something soothing about the pure ivory tones and dark veining on each delicate petal. This cool weather tolerant flower makes a beautiful filler and spiller in hanging baskets and upright containers. 
Sweet caroline raven ipomoea
With a more restrained vigor than other giant sweet potato vines, this elegant foliage plant is the perfect accent needed to knit together the ingredients in this fall recipe. Its trailing stems will grow much longer and fuller as the season progresses. 
option 1:
plant your own combo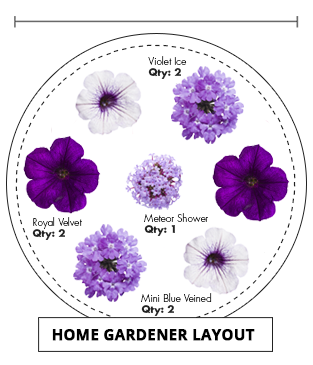 2x mini blue veined
1x royal velvet
2x violet ice
Tip For Success:
When should you water? For containers, it's best to soak them once a day, maybe twice in extreme heat. Landscape plants that are surrounded by mulch require about an inch of water each week. For both, water in the morning and near the roots rather than directly over the foliage of the plants.
*This recipe assumes that 4.5″ plants are being used. To make the recipe work using larger plants, you will need to choose a pot that is larger than our suggested size or use fewer plants of each variety in the recipe.

option 2:
purchase a combo to go
The Enchanted Garden recipe is widely available at retailers across North America. Look for it in hanging baskets and upright patio pots at your favorite local garden center. Don't see what you're looking for? Request it by name next time you shop.
option 3:
purchase plants online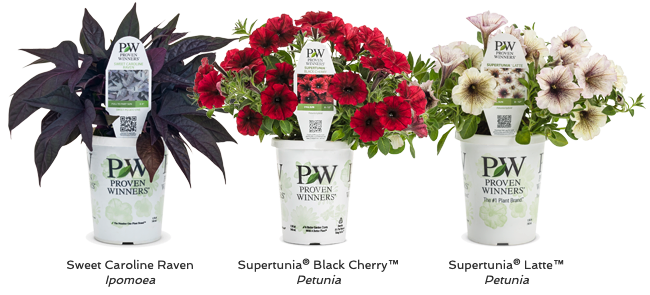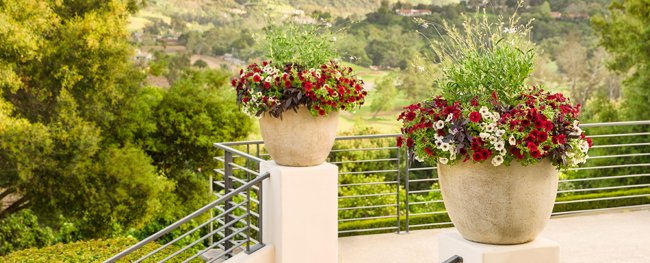 Add an unexpected element of height and movement to this recipe with the airy plumes of Stratosphere™ White Gaura.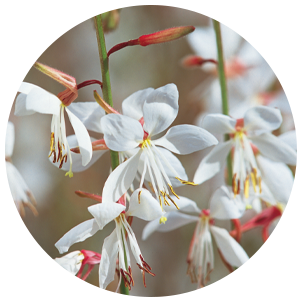 Stratosphere™ White
Gaura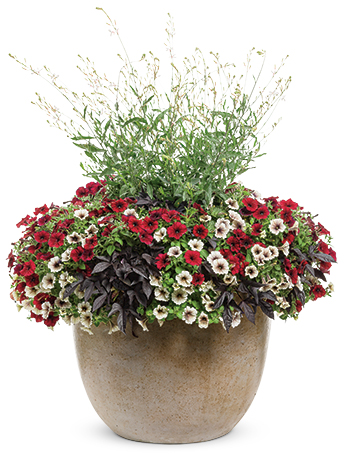 Enchanted Garden with
Stratosphere™ White Gaura