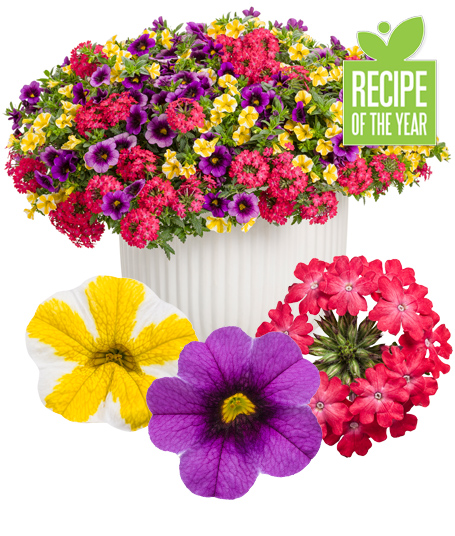 FRUIT SALAD RECIPE
A quick way to freshen up a lackluster space is to add a punch of vibrant color like the saturated grape, lemon yellow and cherry red tones in our Fruit Salad recipe. It combines three of our most popular flowers, all of which have a mounded trailing shape. As the plants mature over the summer, they stay nice and full on top with prismatic blooms dotting the 2' long cascading stems. Hanging baskets and upright containers of our Fruit Salad recipe bring just the right amount of flair to sunny outdoor entertaining areas.
Superbells® Lemon Slice®Calibrachoa
Like a hundred tiny parasols dotting a sunny veranda, Lemon Slice flowers add a touch of whimsy to this splashy recipe. Look closely and you'll notice every flower bears pinwheel stripes of lemon yellow and white. They help to break up the solid masses of purple and red flowers, blooming all season without deadheading.
Superbells® Grape Punch® Calibrachoa
Deep purple and near-black tones are the anchor of this recipe, offering a dramatic contrasting backdrop that sets its yellow and red companions aglow. Grape Punch forms a rounded, then trailing mound that is covered in showy blossoms from spring until frost.
Superbena Royale® Iced Cherry Verbena
The frosted red blossoms of this Superbena are like the cherry on top of a hot fudge sundae—the recipe just isn't complete without this ingredient. They bring a necessary warmth to the pairing, and will surely draw in the butterflies, too.
option 1:
plant your own combo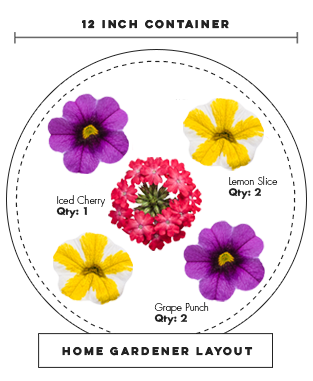 2x grape punch™
2x lemon slice®
1x iced cherry
Tip For Success:
When should you water? For containers, it's best to soak them once a day, maybe twice in extreme heat. Landscape plants that are surrounded by mulch require about an inch of water each week. For both, water in the morning and near the roots rather than directly over the foliage of the plants.
*This recipe assumes that 4.5″ plants are being used. To make the recipe work using larger plants, you will need to choose a pot that is larger than our suggested size or use fewer plants of each variety in the recipe.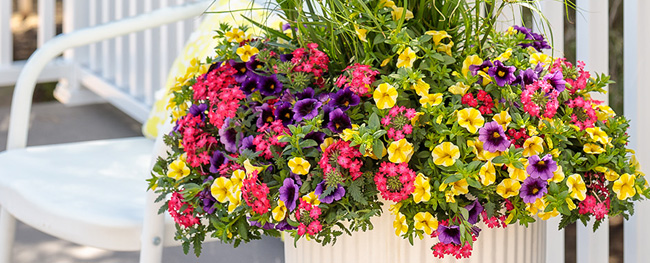 Create a better balance of height and length when you grow this recipe in an upright container by adding Prince Tut® Cyperus.