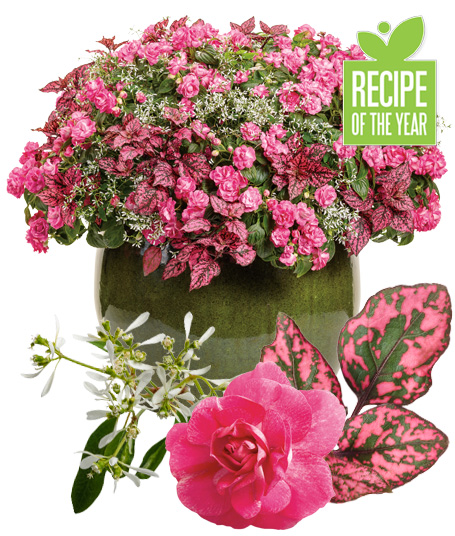 GLORIA ROSE RECIPE
There's nothing like a lively punch of pink to brighten up a shaded spot, and Gloria Rose is dressed to the nines in rosy hues. She is the perfect blend of patterned foliage and exquisite, non-stop blooms. If you've struggled to add radiant color in the shadows of tall trees or along the east or north side of your home, Gloria Rose is just what you've been looking for. Plant up a matching pair in upright containers to frame an entrance or let her shine as a focal point on your shaded patio.
Diamond Frost® Euphorbia
Our Annual of the Year™ Diamond Frost® brings the perfect amount of sparkle to our Gloria Rose recipe. Its airy white blossoms are sprinkled like fairy dust among its rosy companions. Though it may look delicate, it blooms with ease and confidence all season.
Hippo® Rose Hypoestes
One look and you will see why this plant is nicknamed "polka dot plant". Bright pink speckles cover every leaf, echoing the rich pink tones of Rockapulco Rose. Expect this healthy grower to thrive in the heat and fill out the container beautifully.
Rockapulco® Rose Impatiens
Miniature rose-like flowers adorn this charming, shade-loving plant from spring until frost, and since they are self-cleaning, there's no time wasted picking off spent blossoms. Its mounded shape is relaxed just enough to let Diamond Frost weave its way through, lending a baby's breath-like effect to the pairing.
option 1:
plant your own combo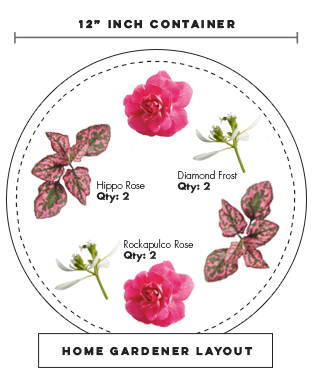 2x rockapulco® rose
2x diamond frost®
2x hippo rose®
Tip For Success:
When should you water? For containers, it's best to soak them once a day, maybe twice in extreme heat. Landscape plants that are surrounded by mulch require about an inch of water each week. For both, water in the morning and near the roots rather than directly over the foliage of the plants.
*This recipe assumes that 4.5″ plants are being used. To make the recipe work using larger plants, you will need to choose a pot that is larger than our suggested size or use fewer plants of each variety in the recipe.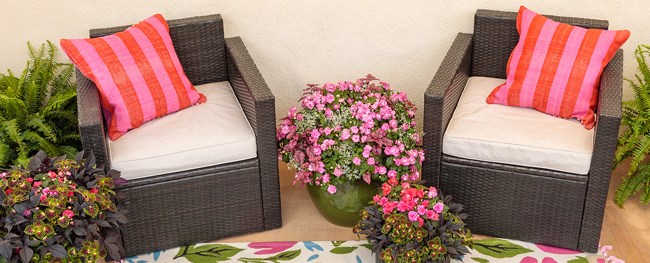 In part sun locations (4-6 hours of sun per day), add a bit of height and graceful movement to this recipe by planting Stratosphere™ White Gaura in the center.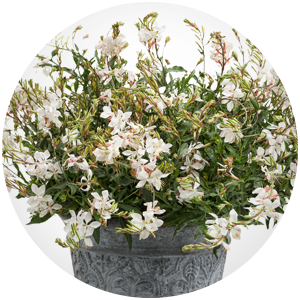 Stratosphere™ White Gaura