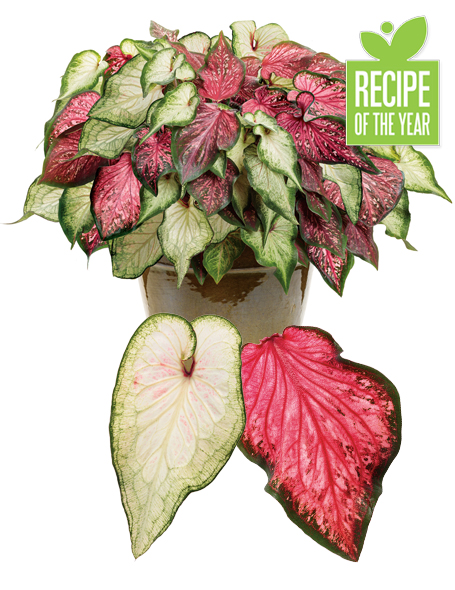 HEARTFELT WONDER RECIPE
Opposites attract in this passionate duo of Heart to Heart® caladiums. The juxtaposition of cool white and steamy scarlet foliage will catch your eye from the curb when you grow this recipe on your shaded front porch. They're surprisingly sun tolerant too, so if you have a bright spot in the landscape that needs a splash of summer color, these flashy tropicals can also fill that role. You'll be glad to know deer aren't fond of caladiums—they are one of few shade tolerant plants they'll pass on by. There is so much to love about this Heartfelt Wonder!
*Easiest in part sun (4-6 hours of sun) but grows well in both sun and shade.
Heart to Heart® 'Scarlet Flame' Caladium
This vivid scarlet caladium is licked with pink and white speckles, all wrapped up by a deep green edge around its pointy heart-shaped leaves. They tend to unfurl a bit flatter and wider than 'White Wonder', so their passionate color will be what you notice first when you lay your eyes on this recipe.
Heart to Heart® 'White Wonder' Caladium
This elegant, trendy tropical is the perfect complement to its scarlet neighbor. Look carefully and you will notice a small red kiss where the leaf meets the stem. In certain lighting, you'll also notice a whisper of soft pink brushing over the leaves. These nuances are just enough to marry the two varieties together in perfect harmony.
option 1:
plant the heartfelt wonder recipe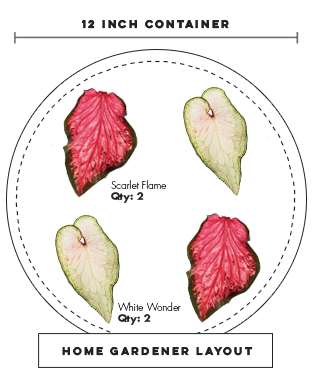 2x 'scarlet flame'
2x 'white wonder'
Tip For Success:
This recipe assumes one bulb per plant. If you purchase a larger pot of caladiums, gently separate the bulbs and arrange them like you see here in the container recipe layout. When the plants are young, they don't like the soil to dry out but once they are established, less water is needed. It's important to wait until the temperature is consistently above 60°F before moving your potted caladiums outdoors. Find more caladium growing tips here.