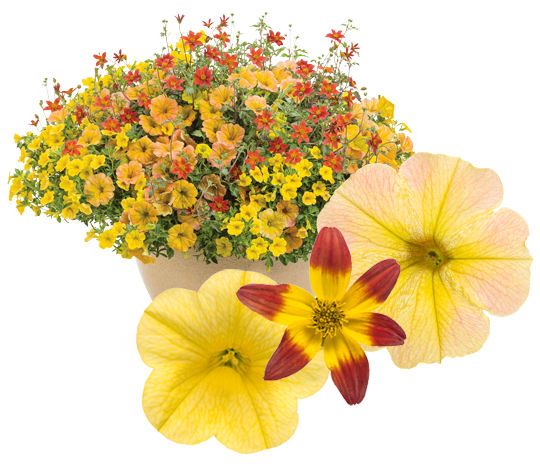 HONEYBELLE RECIPE
When fall fever starts to kick in, it's time to change out your container plantings to those like Honeybelle, which captures the essence of the season with its warm orange and gold tones. This recipe includes both plants that can handle the end of summer heat as well as frosty fall mornings, so you can count on it to add color to your sunny porch or patio throughout the fall months.
​campfire® fireburst bidens
Rich orange and yellow bicolor blooms decorate the finely textured foliage, which acts to knit this entire combination together.
superbells® yellow calibrachoa
Long-lasting, pure yellow blooms appear on trailing stems from spring into fall on this essential Superbells.
Supertunia® honey™ petunia
This fascinating flower presents an ever-changing array of gold, orange and sunset tones throughout the seasons.
option 1:
plant your own combo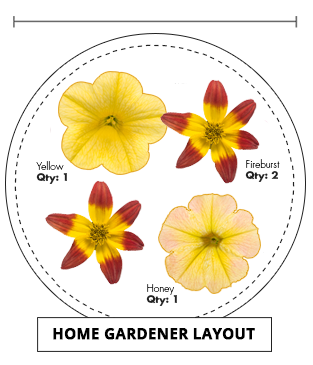 2x campfire fireburst
1x superbells yellow
1x supertunia honey

Tip For Success:
When should you water? For containers, it's best to soak them once a day, maybe twice in extreme heat. Landscape plants that are surrounded by mulch require about an inch of water each week. For both, water in the morning and near the roots rather than directly over the foliage of the plants.
*This recipe assumes that 4.5″ plants are being used. To make the recipe work using larger plants, you will need to choose a pot that is larger than our suggested size or use fewer plants of each variety in the recipe.

option 2:
purchase a combo to go
The Honeybelle recipe is widely available at retailers across North America. Look for it in hanging baskets and upright patio pots at your favorite local garden center. Don't see what you're looking for? Request it by name next time you shop.
option 3:
purchase plants online

If your local retailers aren't carrying the varieties in the Honeybelle recipe, you can always purchase them online.