INVINCIBELLE® RUBY
hydrangea ARBORESCENS
Invincible + Beautiful = Invincibelle
Blooms reliably every year
Ruby buds open to two-toned shimmering pink and ruby red blossoms
Summertime flowers + strong rebloomer
Neatly shaped and easy to maintain
Strong grower in part sun to sun
Extremely cold hardy
3-4' tall x 2-3' spread
Hardy in USDA Zones 3-8
You'll never have to ask why your hydrangea didn't bloom when you grow this one of a kind, ruby flowered stunner. Every year in early to midsummer, you'll enjoy its full mophead-style blossoms that repeat again and again on new growth, offering ample opportunity to fill your vases with fresh flowers. Whether you mix it into your border with an array of perennials or grow a whole hedge, you'll be so glad you planted this dependable, easy-care hydrangea.
how to grow invincibelle® ruby hydrangea
Planting
Native roots help Hydrangea arborescens cultivars like Invincibelle Ruby tolerate a range of growing conditions and soils. Think of them like any other shrub in your landscape–undemanding and easy to grow.
Invincibelle Ruby smooth hydrangea is hardy in USDA Zones 3-8. In all but the warmest climates, it will be the most vigorous and produce the most flowers if you grow it in full sun; some afternoon shade is best in the south. No matter where you garden, your smooth hydrangea will benefit from a 2-3 inch layer of mulch to keep the roots cool and moist.
Smooth hydrangeas tolerate most soil types as long as they are well-drained. This plant doesn't grow well in soggy soil so if that sounds like yours, you may need to improve the drainage before planting. While many types of hydrangeas prefer acidic soil (pH less than 7.0), smooth hydrangeas can live in acidic and neutral (pH 7.0) soils.
​
When planting, dig the hole about twice as wide but just as deep as the container it is growing in. If the roots are densely circled around when you take the plant out of the pot, loosen them up a bit to break the "root memory". This will encourage them to grow outward instead of continuing to grow in a circular pattern.
​
Set the plant in the hole, making sure that the top of the rootball is level with the top of the surrounding soil. Then backfill the hole with the soil you dug out. Press it down with your hand firmly to eliminate any big air pockets around the roots.
​
Lastly, water the plant again to help the soil settle. Spread some mulch around the base of the plant, taking care to keep it from touching the plant's stems. The mulch will help to retain soil moisture and protect the roots during winter.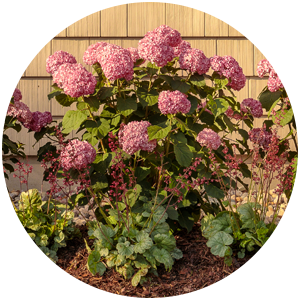 Pruning
Smooth hydrangeas like Invincibelle Ruby produce their flowers on the current season's stems. That means there's no risk of the buds being damaged by winter—a useful trait for northern gardeners. As long as you prune them by mid-spring, you'll see flowers that year.
You could prune Invincibelle Ruby hydrangea in late fall if you don't want to keep its flowers for winter interest. We typically prune them in early spring so we can enjoy those blooms as long as possible. Cut the branches back by about 1/3 of their total length. This will help to maintain a strong, supportive woody base while also encouraging new growth and plenty of blossoms to form. No other pruning should be needed throughout the growing season.
When you prune your smooth hydrangeas annually in early spring, that's also a good time to scratch some granular plant food into the soil. We typically use one formulated for roses since hydrangeas enjoy similar nutrients. Doing so will encourage them to start the season off strong. No additional feeding is necessary.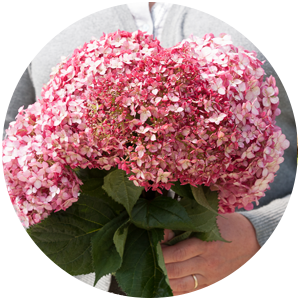 Uses
Since it's so floriferous and easy to grow, Invincibelle Ruby hydrangea makes a gorgeous flowering hedge or foundation planting. It is worthy of a prominent place in your front landscape or in your view out the kitchen window where you'll admire it all summer long.
Its smaller 3-4' size helps it fit easily into most landscapes and borders where the two-toned ruby blossoms will complement purple, blue, yellow or white flowered companions. You could group a few together to brighten up a lackluster space near the edge or back of your yard or grow a single plant as a specimen in a flower garden.
Since it blooms on next year's growth, it won't hurt Invincibelle Ruby if you cut its flowers to use for bouquets or craft projects. And since there is such an abundance of flowers produced, you won't even miss the ones you cut. You'll love this variety's extra strong stems and dark foliage that contrasts beautifully with the shimmering pink and ruby blossoms.
Hydrangeas are often used in summer bridal bouquets or for garden parties since they are in such plentiful supply that time of year. They have a certain romantic air about them, don't you agree? So, if you have a special event coming up in the next year or two, plant this shrub now so you'll have plenty for picking later.
"Whoa! Only three and a half weeks after planting and the two Invicibelle Ruby we planted burst into flowers and look very healthy! I would have settled for the nice dark green healthy foliage and did not expect it to flower so soon but wow, they look awesome!"
–John Silverio, New York
top 3 reasons to grow Invincibelle Ruby® hydrangea
IT BLOOMS RELIABLY EVERY SINGLE YEAR
No more crossing your fingers and hoping your hydrangea will bloom this year. Invincibelle Ruby is a sure thing!
ITS RUBY BLOOMS ARE LIKE NO OTHER SMOOTH HYDRANGEA
Gem-like ruby buds pop open to reveal shimmering pink florets with ruby red undersides, lending a two-toned look to each mophead flower.
IT'S AS EASY TO GROW AS ANY OTHER SHRUB
Finicky is not in Invincibelle Ruby's vocabulary. You'll find this is one of the easiest hydrangeas you'll ever grow.
Invincibelle® Ruby Hydrangea arborescens 'NCHA3' USPP28317 Can5623