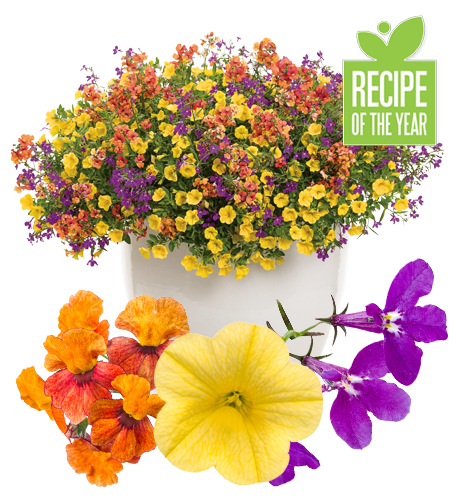 irresistible RECIPE
Not into pink? Our Irresistible recipe is an ideal alternative. Set the color theme for your garden in spring with the cool yellows, juicy oranges and deep purples of this kaleidoscopic combination. Northerners have grown cool weather tolerant lobelias and nemesias for years, but now warm weather gardeners can enjoy them too with the increased heat tolerance of these newer cultivars.
Superbells® Yellow calibrachoa
Glowing like a million tiny suns, this radiant Superbells forms a full, rounded mass that's covered in blooms from spring into fall. It forms the base for this cheerful container recipe and is friendly enough to let its companions play in and around its branches.
Laguna® ultraviolet™ lobelia
The most polished container recipes include a plant like Laguna lobelia that brings everything together. See how its finely textured blossoms mingle between the larger flowers, adding a sprig of fresh purple here and there? It's indispensable and so easy to grow. 
sunsatia® blood orange™ nemesia
Truly one of the most fantastic nemesias to come around in many years, this robust variety grows beautifully from spring through fall. Look closely to see how its intricate blossoms are painted in spectacular sunset hues. Isn't nature amazing? 
option 1:
plant your own combo
2x superbells® yellow
2x laguna® ultraviolet™
2x sunsatia® blood orange™
Tip For Success:
When should you water? For containers, it's best to soak them once a day, maybe twice in extreme heat. Landscape plants that are surrounded by mulch require about an inch of water each week. For both, water in the morning and near the roots rather than directly over the foliage of the plants.
*This recipe assumes that 4.5″ plants are being used. To make the recipe work using larger plants, you will need to choose a pot that is larger than our suggested size or use fewer plants of each variety in the recipe.

option 2:
purchase a combo to go
The Irresistible recipe is widely available at retailers across North America. Look for it in hanging baskets and upright patio pots at your favorite local garden center. Don't see what you're looking for? Request it by name next time you shop.
option 3:
purchase plants online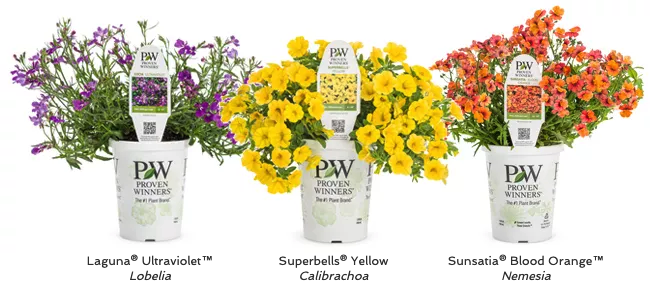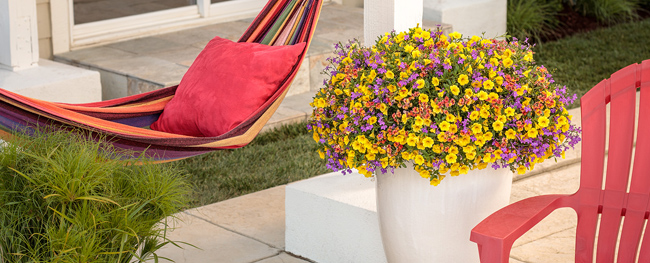 The addition of Graceful Grasses® Purple Fountain Grass Pennisetum makes this container recipe shine especially bright from late summer through fall.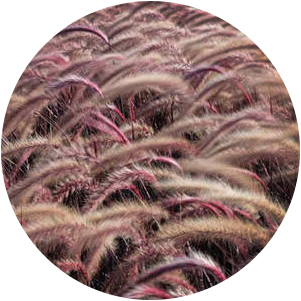 Graceful Grasses®
Purple Fountain Grass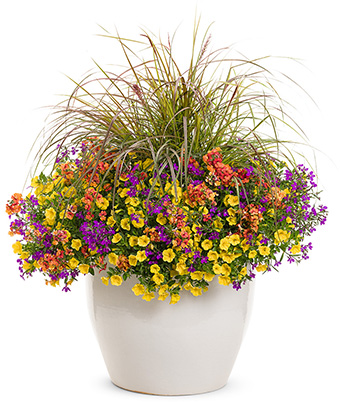 Grand Traverse Recipe with Prince
Tut® Cyperus