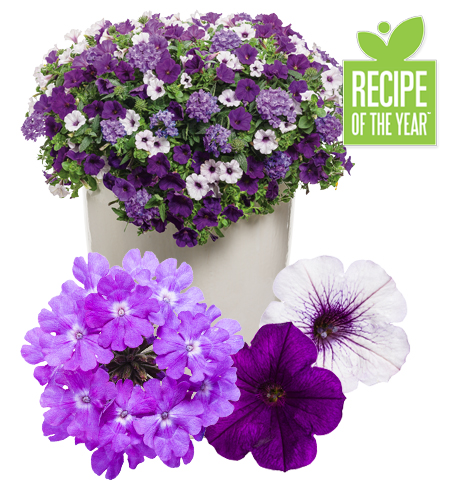 2018 national spring recipe
LILAC FESTIVAL RECIPE
Lilac Festival kicks off the gardening season in spring with three shades of sumptuous purple, a trending color for 2018. This exquisite recipe will bloom from spring into fall without the need to remove the spent blossoms, becoming fully rounded to trailing in shape as summer settles in. Sunshine, water, and regular feeding will keep it in beautiful shape all season.
Supertunia® royal velvet™ petunia
There's nothing quite like the captivating color of this classic favorite Supertunia. Its dramatic purple flowers act like swatches of velvet sewn together to create a tapestry we call Lilac Festival. Through the seasons, it takes on a mounding to trailing shape as it artfully mingles with its neighbors.
Superbena® violet ice verbena
Adding a playful texture to the recipe, this large-flowered verbena carries parasols of pretty blooms on trailing stems. They are just the right shade of lilac purple this recipe needs to make it sing from spring into fall.
Supertunia® mini blue veined Petunia
The magic ingredient that makes this recipe so delectable is this intricately veined, silver and purple mini petunia. Its colors echo its neighbors as it weaves its way through the container and in time, cascades heavily down over the sides like a silvery waterfall. It's a true "spiller" at heart.    
option 1:
plant your own combo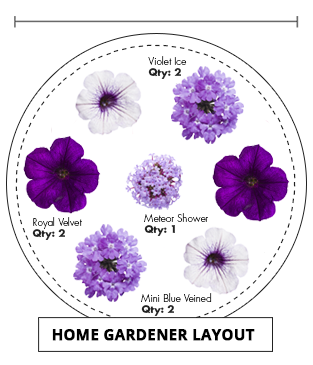 2x mini blue veined
1x royal velvet
2x violet ice
Tip For Success:
When should you water? For containers, it's best to soak them once a day, maybe twice in extreme heat. Landscape plants that are surrounded by mulch require about an inch of water each week. For both, water in the morning and near the roots rather than directly over the foliage of the plants.
*This recipe assumes that 4.5″ plants are being used. To make the recipe work using larger plants, you will need to choose a pot that is larger than our suggested size or use fewer plants of each variety in the recipe.

option 2:
purchase a combo to go
The Lilac Festival recipe is widely available at retailers across North America. Look for it in hanging baskets and upright patio pots at your favorite local garden center. Don't see what you're looking for? Request it by name next time you shop.
option 3:
purchase plants online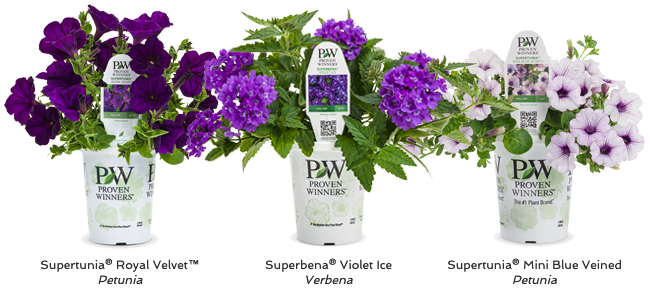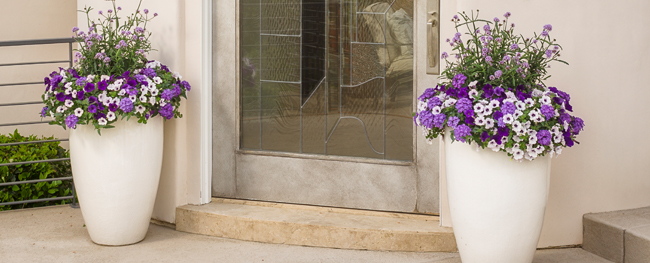 When growing Lilac Festival in an upright container, try adding a thriller plant like Meteor Shower® Verbena to add some variation in height.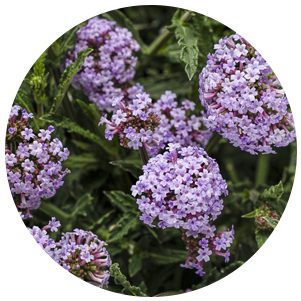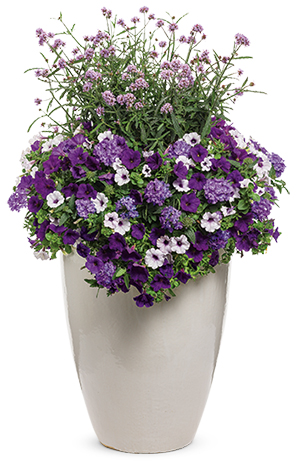 Lilac Festival Recipe with
Meteor Shower® Verbena