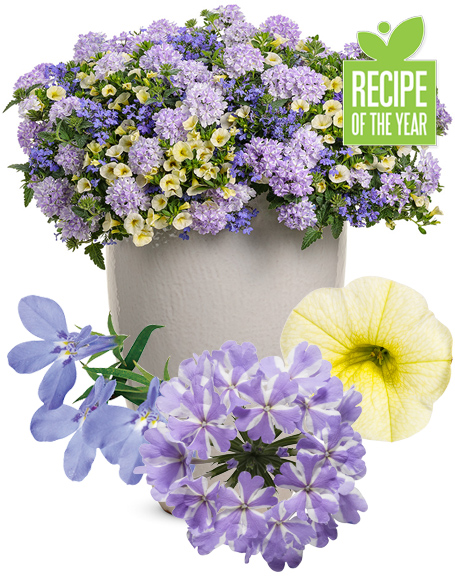 NEPTUNE RECIPE
Delicate hued container recipes continue to trend in today's gardens. Their calming presence is just what is needed when it's time to relax on your patio after a long day. Soft tones are easy to coordinate with many popular home colors and textured stonework, and they are versatile enough to take on a modern or vintage look. Find a sunny spot to try a matching pair in hanging baskets or add the salvia you see below to fill a generously sized upright pot.
Superbena® Stormburst Verbena
This staff favorite is one of our very best Superbenas. Its impressive flower clusters are nearly three times the size of some older verbenas, and its striped lavender blue and white flowers are an absolute delight.
Superbells® Yellow Chiffon™ Calibrachoa
Pastels like this soft yellow calibrachoa have a way of making a steamy hot patio feel just a teensy bit cooler, creating a welcome respite on a sunny summer afternoon. Its gentle tones play beautifully with the sky blue and lavender companions.
Laguna® Sky Blue™ Lobelia
The most polished container recipes include a plant like Laguna lobelia that brings everything together. See how its finely textured blossoms mingle between the larger flowers, adding a sprig of sky blue here and there? It's an indispensable element.
option 1:
plant your own combo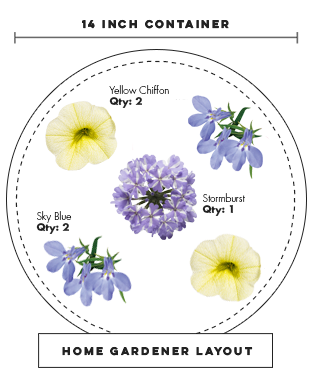 1x superbena® stormburst
2x superbells® yellow chiffon™
2x laguna® sky blue
Tip For Success:
When should you water? For containers, it's best to soak them once a day, maybe twice in extreme heat. Landscape plants that are surrounded by mulch require about an inch of water each week. For both, water in the morning and near the roots rather than directly over the foliage of the plants.
*This recipe assumes that 4.5″ plants are being used. To make the recipe work using larger plants, you will need to choose a pot that is larger than our suggested size or use fewer plants of each variety in the recipe.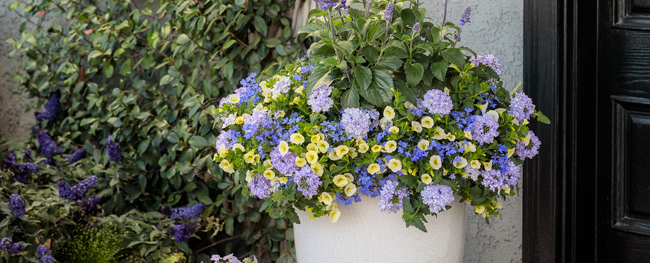 Draw in hummingbirds and butterflies with the addition of Rockin'® Playin' the Blues® Salvia. Be sure to use a large container when adding this robust thriller to the mix.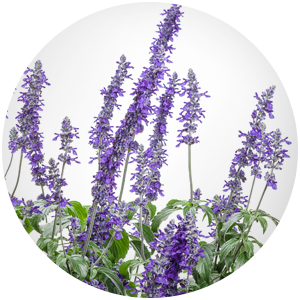 Rockin'® Playin' the Blues® Salvia