SUPERTUNIA MINI VISTA® PINK STAR PETUNIA IN GARDEN BEDS
You might think of petunias simply as container plants, but they make amazing landscape plants too. Their strong growth helps them quickly cover any empty, sunny space in the garden where their spreading stems will knit together to prevent weeds from moving in. Since each plant spreads 18-24", you won't need many to make a huge visual impact.
Supertunia Mini Vista Pink Star blooms from planting time to frost without needing to remove the spent flowers. It won't go to seed by midsummer like so many old petunias do, so you will be able to enjoy its whimsical pink and white striped blossoms all the way from spring to frost.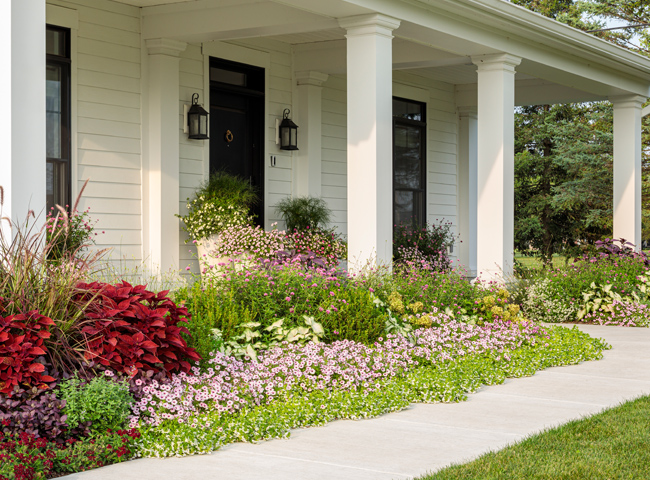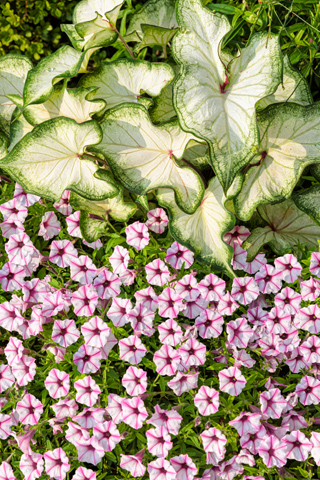 We recommend 12-18" spacing between Supertunia Mini Vista plants in the ground. You'll need two plants for every 4-5 feet of ground you wish to cover.
Space the plants equally in the ground so they fill out evenly with no bare spots in between.
Amend your soil with a good quality garden soil, compost, or humus/manure mix. The soil should be well-drained, meaning water drains easily through it without pooling.
Mix a bit of slow release plant food into the soil before you add the plants. Follow the package instructions to know how much to use. This will ensure a small amount of food is available to the plants' roots over the season.
Water your newly planted petunias immediately to help the soil settle in around the plants' roots.