GRACEFUL GRASSES® PRINCE TUT CYPERUS™ IN GARDEN BEDS
It's not too common to see Prince Tut papyrus growing in the landscape, but that makes it all the more fun to encounter on a stroll through the garden. Its airy texture contrasts beautifully with plants that have broad, flat leaves or a low, mounded habit. Prince Tut's huge umbrella-shaped tassels dance to the slightest breeze, imbuing vitality into your garden design.
This plant could be used as a focal point underplanted with shorter plants like Infinity® New Guinea impatiens in part shade or could be planted en masse under the tall canopy of Heart of the Jungle® Colocasia in full sun. Prince Tut's mid-sized 18 to 30" height makes it easy to pair with both short and tall plants in the landscape.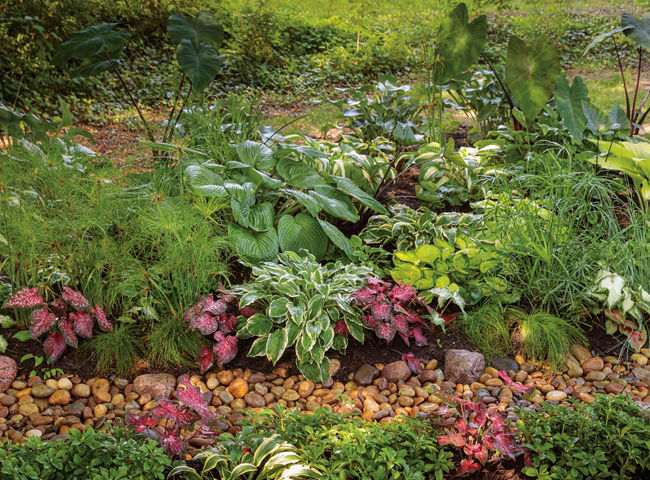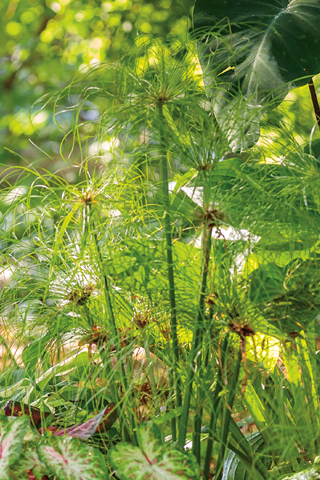 Select a location that receives a minimum of four hours of sun per day. All-day sun works too as long as enough moisture is provided.
This is one plant that won't mind your poorly drained clay soil. It will easily soak up all of the excess moisture and nutrients there. If your soil is very sandy, boost the fertility and water-holding capacity of the soil by incorporating compost and/or peat or choose to grow it in a container instead.
Give this plant plenty of room for its large, woody rhizomes to spread. One of the primary advantages to growing Prince Tut in the ground is that root space is less limited, and the roots will naturally be able to seek out moisture in the soil.
Mix a bit of continuous release plant food into the bottom of the hole before you add the plant. This will ensure a small amount of nutrients is available throughout the growing season.
Water your newly planted Prince Tut immediately to help the soil settle in around the plants' roots.