PUGSTER BLUE®
BUDDLEIA
One of the longest blooming shrubs you can grow
Enjoy non-stop blossoms from early summer to frost
Large, fragrant, deep violet blue flower panicles
Attracts pollinators but not deer
Thick stems ensure better winter hardiness
Strong grower in full sun
2' tall x 2-3' spread
Hardy in USDA Zones 5-9
Pronounced "BUD-lee-uh"
If you have ever grown a butterfly bush, you already know how this plant got its name. Monarch, Viceroy and Eastern Swallowtail butterflies are frequent visitors, not to mention pollinating bees and hummingbirds. Beyond this obvious benefit, you may not realize this is one of the longest blooming shrubs you will find flowering non-stop for months on end. Though the plant itself is dwarf, its flower panicles are just as large and flashy as full-sized butterfly bushes, which means you'll have all the flower power in a petite package that fits just about everywhere.
how to grow blue pugster blue® buddleia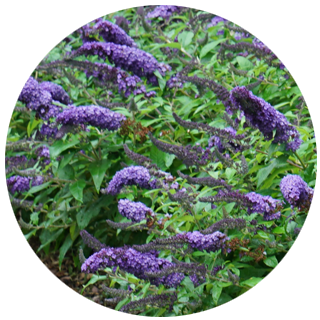 Planting
​Buddleia is best planted from spring to midsummer so the plants have ample opportunity to develop a good root system to sustain them through the winter. Avoid fall planting, especially in zones 5-6.
Choose a spot in your landscape that receives full sun, meaning at least 6-8 hours of sun per day with most of that coming in the afternoon. This is true even in very warm, southern climates. Buddleia does not grow in the shade.
Buddleia needs excellent drainage to survive. Often when the plant fails, it is because it received too much moisture and the roots started to rot. If you have an automatic sprinkling system, do not plant your butterfly bush where it will be inundated with water on a regular basis. Sandy loam soil is naturally well-drained, but if you have clay soil, you will need to take special precautions or grow your butterfly bush in a large container.
When planting in clay soil, we do not recommend trying to amend the soil. Instead, plant it in a raised bed or plant "high". Planting high means instead of positioning the shrub even with the ground level like you would other plants, dig a slightly shallower hole and position it so that the base of the plant is a bit higher than the ground. This encourages water to drain away from the plant rather than settling around it.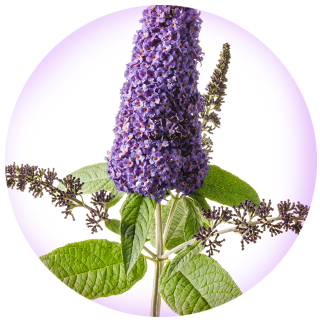 Pruning
Buddleia is one of the later shrubs to leaf out in spring. Don't worry if you do not see new leaves emerging early in the season when the surrounding trees and shrubs are beginning wake up. Many people recommend waiting until mid-June to be certain their butterfly bush has perished.
Wait to prune in spring until you see green buds on the stems. Make your cuts just above where big, healthy leaf buds have formed. Resist the urge to cut your butterfly bush back too early. Spring pruning is recommended over fall pruning, especially in colder climates. The warmer your climate, the more you should cut back your butterfly bush each spring to maintain a neat shape. Even dwarf varieties like Pugster Blue should be pruned every year.
Pugster Blue will bloom all summer long without removing the spent flower panicles but removing them will not hurt the plant if that is your preference. In warmer climates where reseeding is a concern, you can cut off and dispose of the seedheads left on the plant in autumn. As long as you aren't doing any major pruning into the plant in the fall, it is perfectly fine to do this.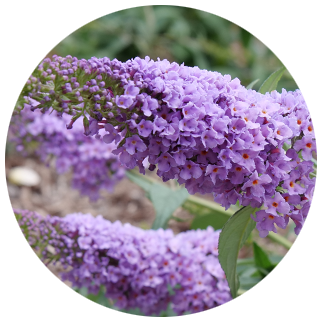 Companions
When thinking about what to plant near your butterfly bush, look for plants that also enjoy lots of sun and heat, not much water, and very well-drained soil. These are all traits you can select in our Advanced Plant Search tool.
Perennials make perfect companions for butterfly bush. Consider surrounding Pugster Blue with perennials that enjoy similar conditions including dianthus, coneflowers, yarrow, red hot pokers and sedum. By including a mix of perennials that bloom at different times of the season, you can have a continuous parade of colorful blossoms all year.
In zones 8-9, Austin Pretty Limits® oleander will make a beautiful backdrop for Pugster Blue butterfly bush. Standing 4-6' tall—which is 2-3 times taller than the butterfly bush–it creates a wall of bright pink blooms that contrast beautifully with Pugster Blue's deep violet blue panicles all the way from early summer through fall.
"I planted this for the first time in eary June and it has bloomed without stop all summer. I deadhead flowers every other day to keep the vibrant blue color. The butterflies love it too. I definitely recommend this plant."
-DK, Ohio, United States
top 3 reasons to grow Pugster Blue® Buddleia
NON-STOP BLOOMS
Imagine being able to enjoy these sweetly fragrant, violet blue blossoms for months on end in your flower garden.
BRING ON THE BUTTERFLIES
"If you plant it, they will come" should be the mantra for butterfly bush. Expect a few hummingbirds to join in the fun, too.
BETTER WINTER HARDINESS
Thicker, more cold hardy stems help this type of butterfly bush survive better in colder zones 5 and 6.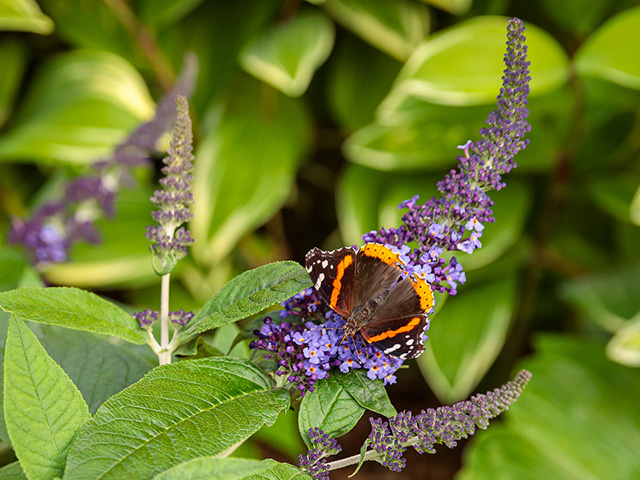 Pugster Blue® Buddleia x 'SMNBDBT' USPP USPP28794 CanPBRAF