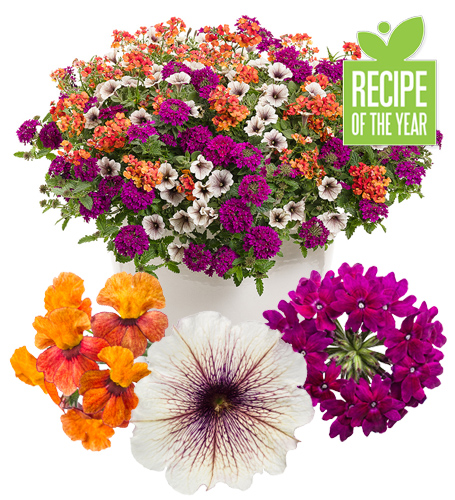 PUMPKIN SPICE LATTE RECIPE
Why wait until autumn to satisfy your desire for a pumpkin spice latte? This lively combination of heat and cold tolerant annuals means the fun can begin in spring and last all season. Its contrasting colors will pop against your red brick home or neutral-toned siding. Try a matching pair of hanging baskets on the front porch or plant the recipe in a pretty container to dress up your deck.
Sunsatia® blood orange™ nemesia
Truly one of the most fantastic nemesias to come around in many years, this robust variety grows beautifully from spring through fall. Look closely to see how its intricate blossoms are painted in spectacular sunset hues. Isn't nature amazing? 
Supertunia® latte™ Petunia
Forming the base of this container recipe is the fully mounded and trailing Supertunia Latte, one of the most distinctive and elegant petunias you'll ever lay eyes on. Its near-black markings on ivory white petals are drawn out by the rich jewel tones of the Superbena. 
Superbena royale® plum wine verbena
Umbrellas of royal purple blossoms dance among its companions in this recipe, transforming it into a cornucopia of juicy oranges, bold purples and soothing whites. Strong disease resistance and no need for deadheading are welcome bonuses. This long-lasting combination grows beautifully in hanging baskets and upright containers. 
option 1:
plant your own combo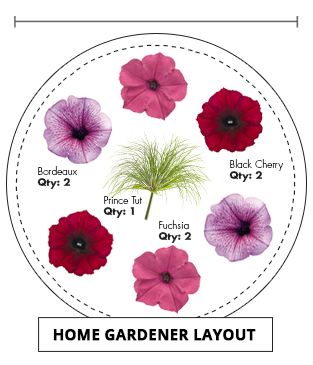 1x supertunia latte
2x blood orange
2x plum wine
Tip For Success:
When should you water? For containers, it's best to soak them once a day, maybe twice in extreme heat. Landscape plants that are surrounded by mulch require about an inch of water each week. For both, water in the morning and near the roots rather than directly over the foliage of the plants.
*This recipe assumes that 4.5″ plants are being used. To make the recipe work using larger plants, you will need to choose a pot that is larger than our suggested size or use fewer plants of each variety in the recipe.

option 2:
purchase a combo to go
The Pumpkin Spice Latte recipe is widely available at retailers across North America. Look for it in hanging baskets and upright patio pots at your favorite local garden center. Don't see what you're looking for? Request it by name next time you shop.
option 3:
purchase plants online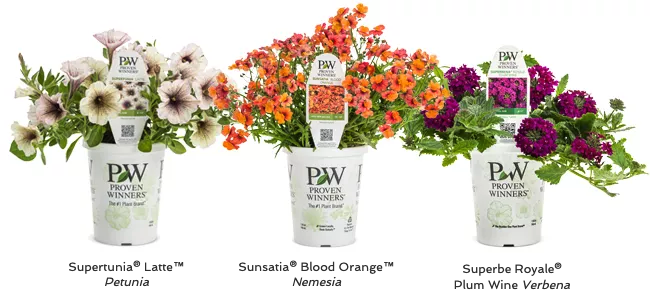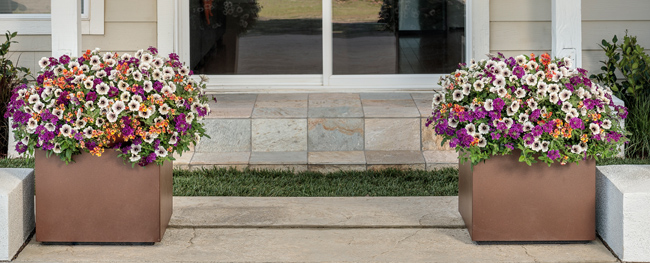 Add an extra dose of fall flair to this container recipe by including Graceful Grasses® Purple Fountain Grass as a thriller.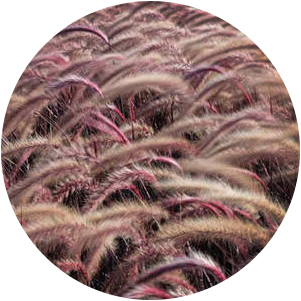 Graceful Grasses® Purple Fountain Grass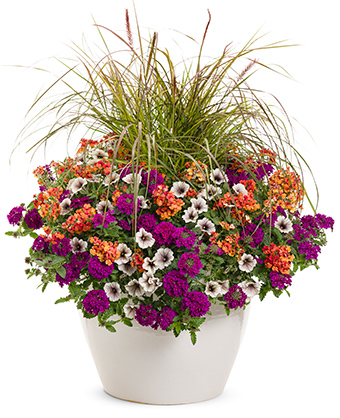 Pumpkin Spice Latte Recipe
with Graceful Grasses® Purple
Fountain Grass