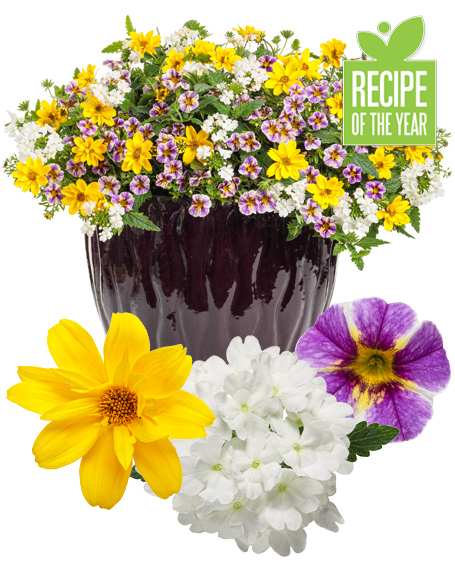 ROCKIN' OUT RECIPE
With Goldilocks gettin' her grove on and Superbells as flashy as the painted faces at a KISS concert, you will totally be Rockin' Out with these fun plants! Who couldn't use a little more fun in their life? A pair of these energetic pots flanking your front door will let all your guests know that yours is the party house on the block.
*Best in full sun (6+ hours of sun)
Superbells® Holy Smokes!® Calibrachoa
The splashy painted blossoms of this fun little Superbells set the theme for the whole recipe: FUN! It forms a full, rounded mass that's covered in blooms from spring into fall. Since they are self-cleaning, there's no need to remove the spent flowers. Just sit back and enjoy the show, which may include a visiting hummingbird if you're lucky.
Goldilocks Rocks® Bidens
This is the first plant that will catch your eye in this rockin' combination. Its large, sunny yellow blossoms flourish even on the hottest days of summer without ever breaking a sweat. You'll find them poking in and about among its container companions on mounded to trailing stems all season long. Expect a few pollinating bees to join the fun on sunny days.
Superbena® Whiteout™ Verbena
This staff favorite is one of our very best Superbenas. Its impressive flower clusters are nearly three times the size of some older verbenas, and its snow white flowers are an absolute delight. They appear on mounded stems that trail up to two feet long by season's end.
option 1:
plant your own combo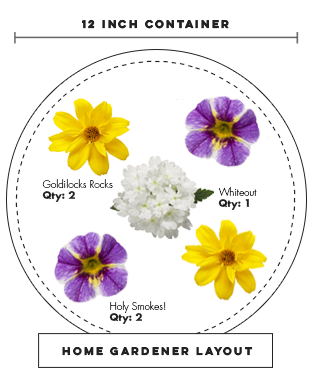 1x superbena® whiteout™
2x goldilocks rocks®
2x superbells® holy smokes!®
Tip For Success:
When should you water? For containers, it's best to soak them once a day, maybe twice in extreme heat. Landscape plants that are surrounded by mulch require about an inch of water each week. For both, water in the morning and near the roots rather than directly over the foliage of the plants.
*This recipe assumes that 4.5″ plants are being used. To make the recipe work using larger plants, you will need to choose a pot that is larger than our suggested size or use fewer plants of each variety in the recipe.