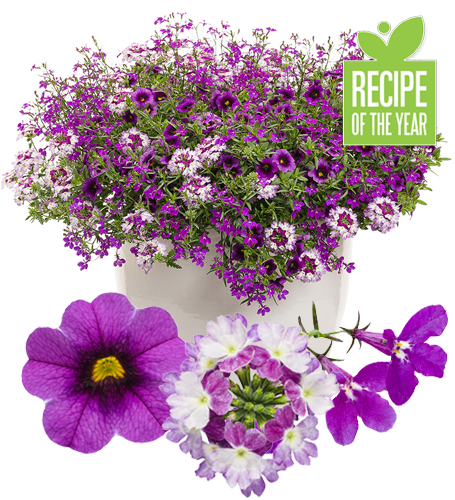 SPARKLE AND GLOW RECIPE
Covered head to toe in luxurious shades of purple, our monochromatic Sparkle and Glow recipe will blend easily into any color palette you choose this year, from rich jewel tones to calming neutrals and everything in between. Though each blossom offers unique color patterns that you'll appreciate up close, this recipe is equally impressive when viewed from a distance. 
Superbells® grape punch™ calibrachoa
Royal purple blossoms with a deep plum center appear abundantly on cascading stems all season, acting as both a filler and spiller in this recipe. Since they are self-cleaning, there's no need to remove the spent flowers. Just sit back and enjoy the show, which may include a visiting hummingbird if you're lucky. 
Laguna® ultraviolet™ lobelia
The most polished container recipes include a plant like Laguna lobelia that brings everything together. See how its finely textured blossoms mingle between the larger flowers, adding a sprig of fresh purple here and there? It's indispensable and easy to grow. 
Superbena sparkling® amethyst verbena
Each cluster of blossoms is like a miniature bouquet with this incredible annual. From a distance, they'll appear like glowing white orbs dotting the trailing stems, but take a closer look and you'll find a pop of purple in the center of each cluster. Strong disease resistance and no need for deadheading are welcome bonuses. 
option 1:
plant your own combo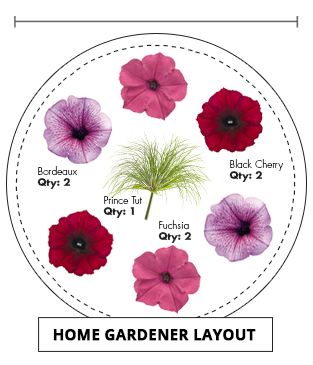 2x superbells® grape punch
2x laguna® ultraviolet™
2x sperbena sparkling® amethyst
Tip For Success:
When should you water? For containers, it's best to soak them once a day, maybe twice in extreme heat. Landscape plants that are surrounded by mulch require about an inch of water each week. For both, water in the morning and near the roots rather than directly over the foliage of the plants.
*This recipe assumes that 4.5″ plants are being used. To make the recipe work using larger plants, you will need to choose a pot that is larger than our suggested size or use fewer plants of each variety in the recipe.

option 2:
purchase a combo to go
The Sparkle and Glow recipe is widely available at retailers across North America. Look for it in hanging baskets and upright patio pots at your favorite local garden center. Don't see what you're looking for? Request it by name next time you shop.
option 3:
purchase plants online

If your local retailers aren't carrying the varieties in the Sparkle and Glow recipe, you can always purchase them online.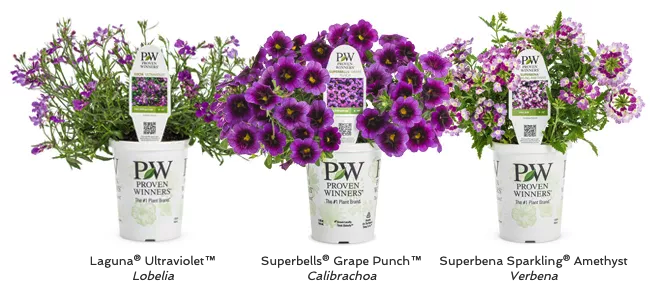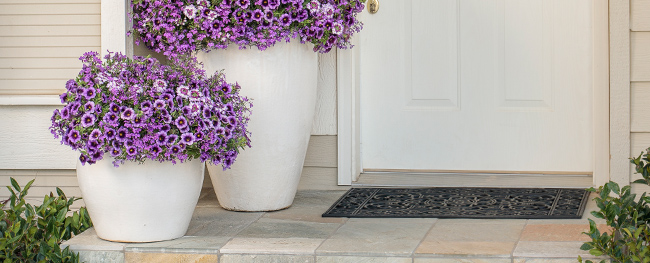 Keep the monochromatic purple theme going with the addition of Meteor Shower® Verbena, a tall, lilac purple thriller that draws in the butterflies.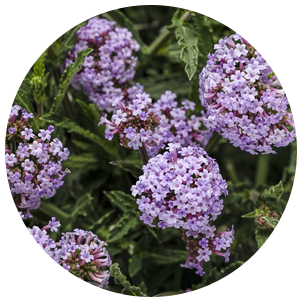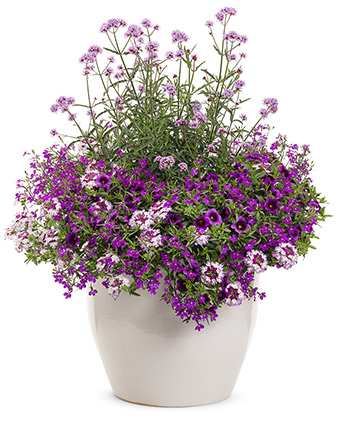 Sparkle and Glow Recipe
with Meteor Shower® Verbena