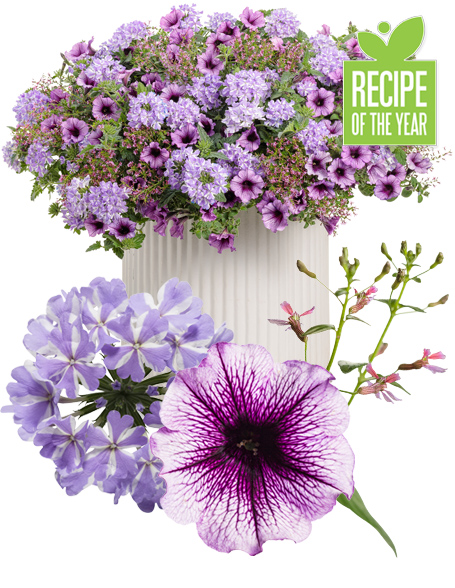 STORM SHADOW RECIPE
For decades, our fans have ranked pink and purple as their top two flower colors and who can blame them? Look how perfectly they coordinate here in our Storm Shadow recipe for full sun containers and hanging baskets. Be sure to include all three ingredients to create balance among the deep and light tones. Though they will start out in spring with a mounded form, expect the flower-laden stems to trail at least 30" by summer.
Fairy Dust® Pink Cuphea
Though not yet well-known in the flower world, this dainty flowered, heat tolerant annual sprinkles in just the right amount of fine texture among its larger flowered companions. Think of it like a pink baby's breath, complimenting everything you pair it with.
Supertunia® Bordeaux™ Petunia
The lavish two-toned light and dark purple blossoms of this award-winning Supertunia appear abundantly on cascading stems from spring until frost without deadheading. Its dark veining provides a dramatic, grounding contrast among a sea of softer colors in this recipe.
Superbena® Stormburst Verbena
This staff favorite is one of our very best Superbenas. Its impressive flower clusters are nearly three times the size of some older verbenas, and its striped lavender blue and white flowers are an absolute delight.
option 1:
plant your own combo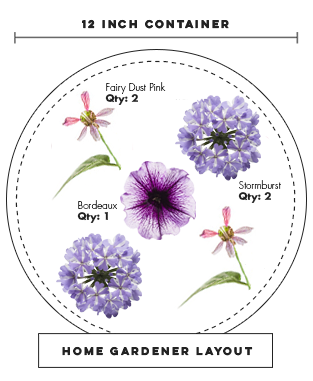 2x fairy dust® pink
2x superbena® stormburst
1x supertunia® bordeaux™
Tip For Success:
When should you water? For containers, it's best to soak them once a day, maybe twice in extreme heat. Landscape plants that are surrounded by mulch require about an inch of water each week. For both, water in the morning and near the roots rather than directly over the foliage of the plants.
*This recipe assumes that 4.5″ plants are being used. To make the recipe work using larger plants, you will need to choose a pot that is larger than our suggested size or use fewer plants of each variety in the recipe.

Add a touch of whimsy while sticking to the pink and purple color palette with Meteor Shower® verbena as a tall thriller.