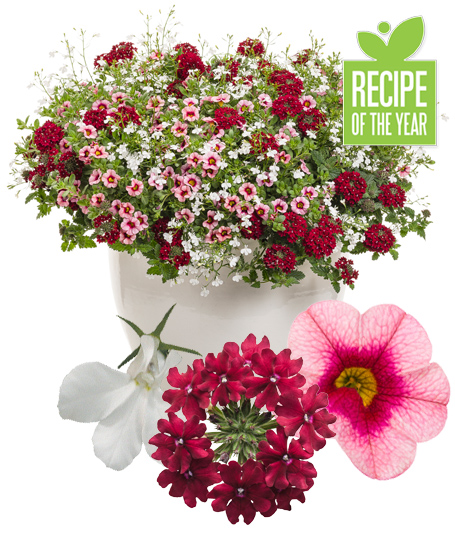 strawberry sauce recipe
Fresh and sweet with a bit of vintage flair describes this charming container recipe. Warm pinks and reds are brightened with pops of lacy white throughout using some of the same flowers your great aunt Julia grew, only updated with modern conveniences like non-stop blooms and strong disease resistance. Grow it in a hanging basket or pair it with a thriller in an upright container.
Superbells® strawberry punch™ calibrachoa
The intricately patterned blossoms of this pretty little Superbells set the color theme for the whole recipe. Light pink petals are ringed in magenta, then finished with a surprising dot of yellow in the middle. Loads of blossoms line the cascading stems from spring into fall without deadheading.  
Superbena royale® romance verbena
You'll notice the large parasol-shaped, scarlet red flower clusters of this remarkable plant first. See how beautifully they contrast with the smaller and more finely textured Superbells and laguna blossoms? Don't skip this essential ingredient that makes the recipe go from sweet to sensational. 
Laguna® white lobelia
The most polished container recipes include a plant like Laguna lobelia that brings everything together. See how its lacy blossoms mingle between the larger flowers, adding a sprig of crisp white here and there? It's indispensable and so easy to grow.
option 1:
plant your own combo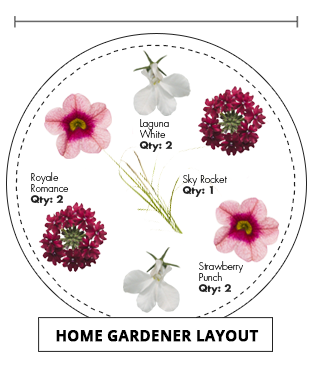 2x laguna white
2x royale romance
2x strawberry punch
Tip For Success:
When should you water? For containers, it's best to soak them once a day, maybe twice in extreme heat. Landscape plants that are surrounded by mulch require about an inch of water each week. For both, water in the morning and near the roots rather than directly over the foliage of the plants.
*This recipe assumes that 4.5″ plants are being used. To make the recipe work using larger plants, you will need to choose a pot that is larger than our suggested size or use fewer plants of each variety in the recipe.

option 2:
purchase a combo to go
The Strawberry Sauce recipe is widely available at retailers across North America. Look for it in hanging baskets and upright patio pots at your favorite local garden center. Don't see what you're looking for? Request it by name next time you shop.
option 3:
purchase plants online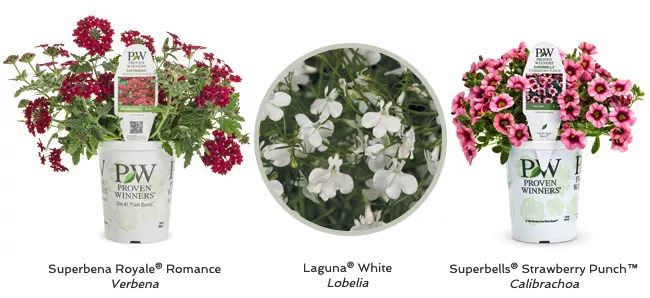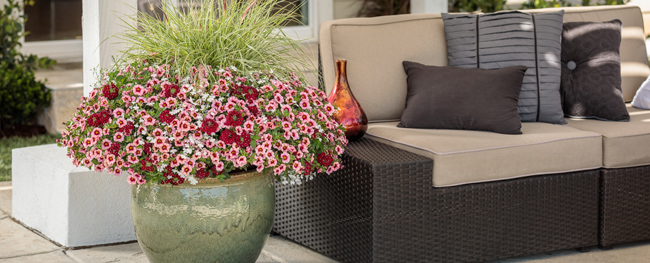 Add height and movement to this recipe when you grow it in upright containers by placing one Graceful Grasses® 'Sky Rocket' Pennisetum in the center.
Graceful Grasses® 'Sky Rocket'
Pennisetum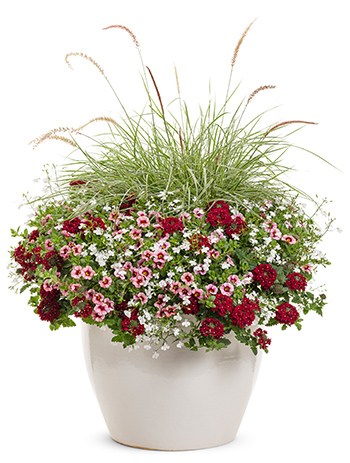 Strawberry Sauce Recipe with Graceful
Grasses® 'Sky Rocket' Pennisetum