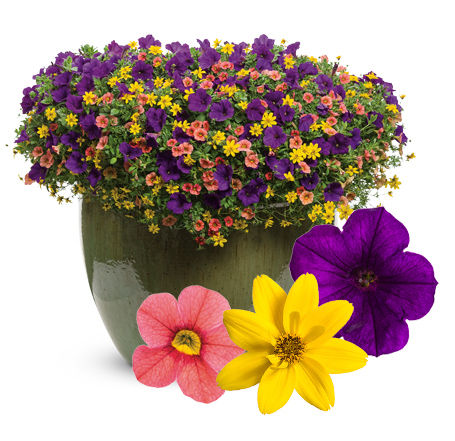 2018 national summer recipe
summerfest recipe
Our National Summer Recipe includes a heat tolerant blend of blooms in juicy tropical fruit colors. When you first plant or purchase it, the plants will be knit together in a dense mass of color. As it grows through the seasons, expect it to expand into a fluffy cloud of corals, yellows and purples. Plenty of sunshine, water and plant food will keep these plants vibrant from spring through fall. 
goldilocks rocks® bidens
The delicate appearance of this sunbathing beauty is deceiving. Its constitution is tough-as-nails, ready to take on the hottest summer days without ever breaking a sweat. Expect sunshine yellow blooms to dot this vigorous, mounded to trailing plant all season. 
superbells® coralina calibrachoa
There's something about classic coral that has an uncanny way of lifting one's spirits. Superbells Coralina is an absolute delight as she cascades her trailing branches coated with cheerful blossoms over the edges of containers from spring into fall. 
Supertunia® royal velvet™ Petunia
Rounding out the fruity color palette of our Summerfest recipe is this succulent purple toned flower which has been a classic Proven Winners favorite for many years. You just can't beat the remarkable color of this Supertunia. Through the seasons, it will take on a mounded to trailing shape.
option 1:
plant your own combo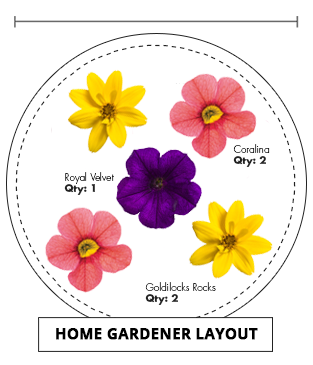 2x goldilocks rocks
1x royal velvet
2x coralina
Tip For Success:
When should you water? For containers, it's best to soak them once a day, maybe twice in extreme heat. Landscape plants that are surrounded by mulch require about an inch of water each week. For both, water in the morning and near the roots rather than directly over the foliage of the plants.
*This recipe assumes that 4.5″ plants are being used. To make the recipe work using larger plants, you will need to choose a pot that is larger than our suggested size or use fewer plants of each variety in the recipe.

option 2:
purchase a combo to go
The Summerfest recipe is widely available at retailers across North America. Look for it in hanging baskets and upright patio pots at your favorite local garden center. Don't see what you're looking for? Request it by name next time you shop.
option 3:
purchase plants online

If your local retailers aren't carrying the varieties in the Summerfest recipe, you can always purchase them online.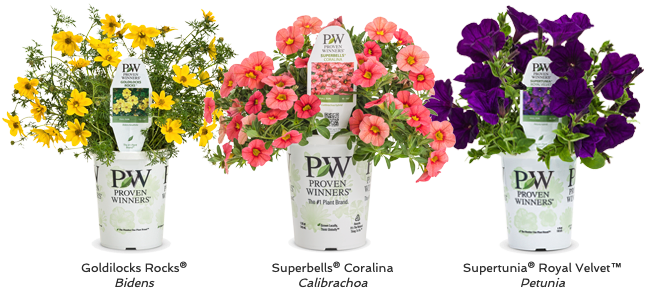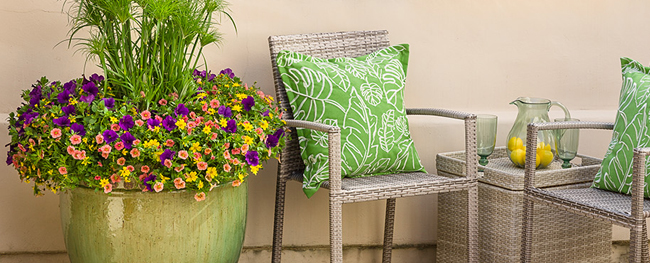 Add height and texture to this recipe with the addition of the playful Prince Tut™ Cyperus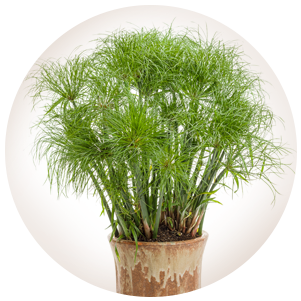 Graceful Grasses® Prince Tut™
Cyperus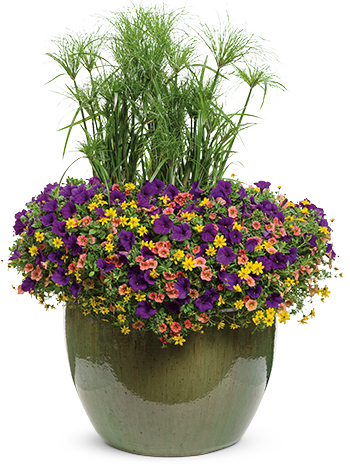 Summerfest Recipe with
Graceful Grasses® Prince
Tut Cyperus