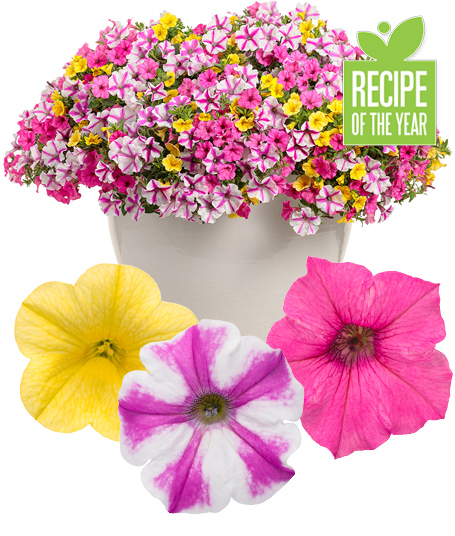 SUNGLASSES RECIPE
There's just something about this glittery recipe that will make you smile every time you walk by. Maybe it's the funky pink and white star-patterned blossoms of Supertunia Lovie Dovie or the way it absolutely flourishes during the heat of summer. We think once you plant it, this recipe will become one you repeat every year. It's suitable for both hanging baskets and upright containers in any sunny space.
Superbells® Yellow Calibrachoa
This floriferous Superbells forms a lush, rounded to slightly trailing mound that's just relaxed enough to let its companions play in and around its branches. Expect non-stop color from spring into fall without deadheading.
Supertunia® Mini Vista™ Hot Pink Petunia
This small-flowered but mighty petunia exudes positive energy. You'll be amazed by its strong growth and flower power on full plants that cascade up to 2' long. It's the element that pulls everything together in this vibrant recipe.
Supertunia® Lovie Dovie™ Petunia
The first plant that will catch your eye in our Sunglasses recipe is the fully mounded to trailing Supertunia Lovie Dovie, one of the most distinctive star-patterned petunias you'll ever lay eyes on. Its beaming white and hot pink patterned blossoms play perfectly with their solid pink companions.
option 1:
plant your own combo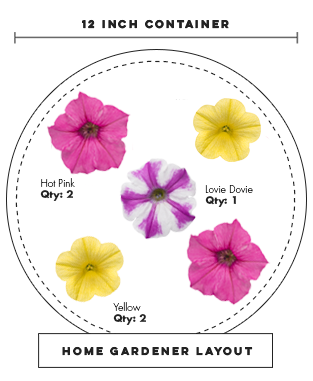 2x mini vista™ hot pink
2x superbells® yellow
1x supertunia® lovie dovie™
Tip For Success:
When should you water? For containers, it's best to soak them once a day, maybe twice in extreme heat. Landscape plants that are surrounded by mulch require about an inch of water each week. For both, water in the morning and near the roots rather than directly over the foliage of the plants.
*This recipe assumes that 4.5″ plants are being used. To make the recipe work using larger plants, you will need to choose a pot that is larger than our suggested size or use fewer plants of each variety in the recipe.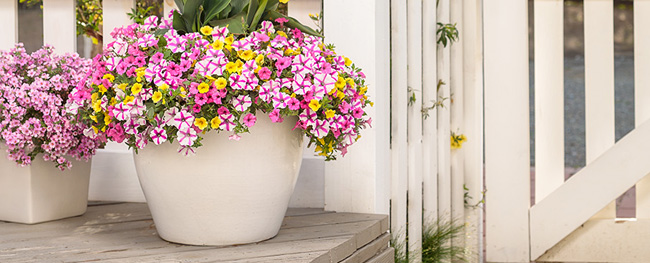 Turn on the high beams with the radiant yellow blossoms of Toucan® Yellow canna. This tall, bold thriller draws out the yellow accents in its trailing companions.