THE DIAMOND COLLECTION IN GARDEN BEDS
No matter which variety you plant, Diamond euphorbia will light up your landscape with its sparkling white blooms all season. The only decision you'll have to make is choosing which one to plant where.
For a bright, saturated pop of white in smaller spaces or along the border's edge, choose Diamond Snow.
For an airy look near the border's edge, and for a plant that will mingle politely with its neighbors, choose Diamond Frost.
To create a 2-3' tall hedge or fill an expanse space in a larger garden, choose the super-sized Diamond Snow.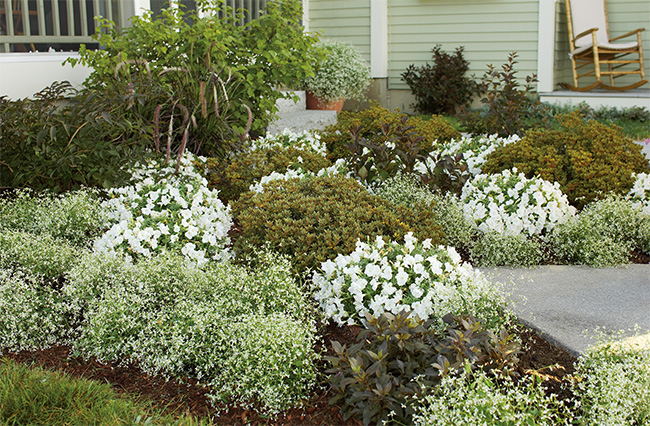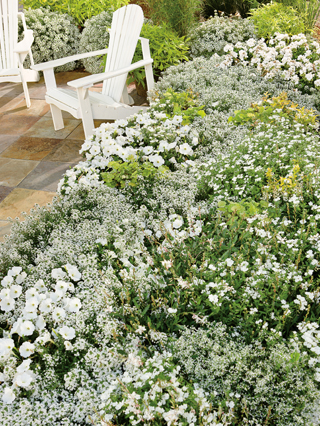 Diamond euphorbia makes a beautiful, low maintenance accent plant in the landscape. Expect to replace it every year unless you garden in zones 10-11 where it is perennial.
Spacing will depend on which variety you are planting. Diamond Snow and Diamond Frost are similar in size with a recommended 12-18" spacing. Diamond Mountain will need more room at 24-36" spacing.
If you want the plants to grow together, shave a few inches off of our recommended spacing listed above and they will form a dense grouping with no bare spots showing in between.
Diamond euphorbia requires well-drained soil that won't stay wet for long after a hard rain. You may need to amend your soil to improve drainage before planting.
Mix a bit of slow release plant food into the soil before you add the plants. Follow the package instructions to know how much to use. This will ensure a small amount of food is available to the plants' roots over the season.
Water your newly planted Diamond euphorbia immediately to help the soil settle in around the plants' roots.