THE DIAMOND COLLECTION
True Diamonds Flourish Under Pressure
Fresh white color all season
Complements everything you plant with it
Incredibly easy to grow
Thrives in sun, shade, heat and drought
Delicate appearance, strong grower
No deadheading needed
Perfect for containers and landscapes

Pronounced "you-FOR-bee-uh"
Chances are you've seen these sparkly little beauties around town peeking out among other flowers in window boxes, fluttering with the slightest breeze in hanging baskets or dotting the landscape with airy puffs of white. When a plant remains as popular as the Diamond collection for a decade and a half, you know it's special.
Now there's a Diamond for every use. Classic Diamond Frost adds a gorgeous airy touch to container recipes while the dense, double flowered Diamond Snow will rim your garden's edge in sparkling white. Mega-sized Diamond Mountain is spectacular en masse in landscapes.
VIDEO REVIEW
Many years ago, Diamond Frost euphorbia took the plant world by storm with its dainty appearance, but tough-as-nails heat and drought tolerance. Today, Proven Winners continues to add plants to this line so landscapers have an option to use in their designs, and gardeners have multiple versions of this plant to choose from. Check out the video rundown of the Diamond Collection from Laura of Garden Answer!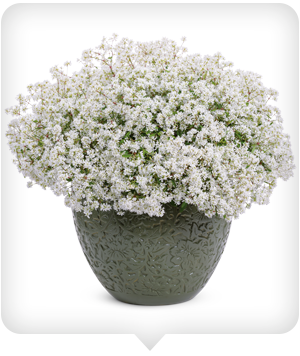 Diamond Snow™
Euphorbia
Diamond Snow might look delicate and frilly, but nothing could be further from the truth. This is an amazingly durable plant that grows well in sun and shade all across the country. Its double flowers provide an extra-bright punch of white in containers and landscapes. Compared to Diamond Mountain and Diamond Frost, its shape is more densely rounded, so it's better when given its own space to shine along the edge of a garden bed or in container recipes.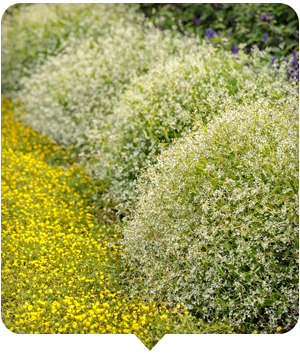 Diamond Mountain®
Euphorbia
This super-sized Euphorbia makes magnificent hanging baskets and extra-large upright containers when combined with our most vigorous plants. It has performed well from North to South and coast to coast. While it does best in sun or part sun conditions, it does surprisingly well in shady conditions also. As you might suspect it is great in mixed containers and containers by itself, but don't discount its excellent performance when planted in the landscape.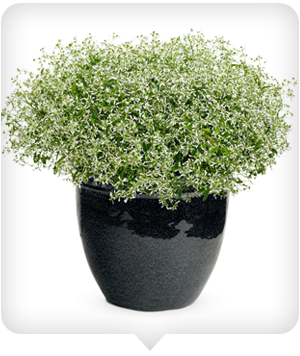 Diamond Frost®
Euphorbia
Diamond Frost is like your friend who gets along with everyone she meets—it combines easily with many kinds of plants, weaving its wiry stems in and out, poking its single, airy white flowers throughout the combination. Often imitated but never equaled! It doesn't need to be deadheaded and shouldn't need much in the way of fertilizer either – it's a very self-sufficient plant. While you shouldn't need to trim it back, you can trim it back at anytime and it will just keep doing its thing.
Diamond Frost® Euphorbia 'Inneuphdia' USPP17567 Can2830
Diamond Mountain® Euphorbia USPPAF CanPBRAF
Diamond Snow™ Euphorbia 'INCHADIACL' USPPAF CanPBRAF