THE DIAMOND COLLECTION IN UPRIGHT CONTAINERS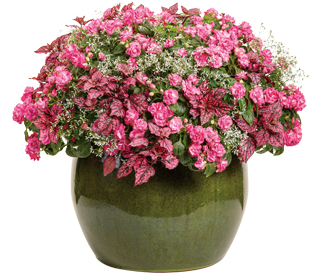 Gloria Rose recipe with diamond frost®
Diamond Frost® is the diamond necklace that dresses up your little black dress. Use it sparingly if you're just looking to add a bit of sparkle, or plant it liberally if you want to make sure it gets noticed. Since this plant grows at a rate similar to many other flowers like Superbells® calibrachoa, Superbena® verbena and Boldly® geraniums, it's easy to mix Diamond Frost into your upright container recipes.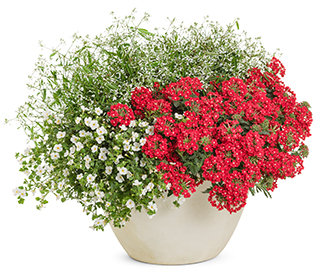 ITALIAN COUNTRYSIDE RECIPE WITH DIAMOND MOUNTAIN®
The clue to Diamond Mountain's size is in its name. It forms a huge mountain of tiny, radiant white flowers, kicking into high gear once the heat of summer arrives. Because of its massive size, you'll want to plant Diamond Mountain with other very vigorous plants in upright containers like Supertunia Vista® petunias and Angelface® Angelonia.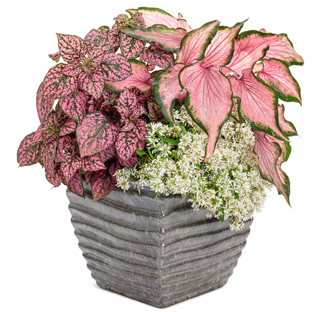 pink diamonds recipe with diamond snow®
Choose Diamond Snow™ if you're the kind of person who doesn't like your peas and carrots to mix on your dinner plate. This plant is not the mingling kind. Its size and average growth rate make it perfect for upright containers where it will happily occupy its own space next to its neighbors. Its double flowers provide an extra-bright punch of white.
Click the images above to learn more about each recipe.
PLANTING YOUR UPRIGHT CONTAINER
Most people pair Diamond euphorbia with other flowering or foliage plants in upright containers. It can be grown alone, but its airy shape is enhanced by having companions.
For one 12" container, you'll need one 4-inch potted Diamond Frost or Diamond Snow and two other plants with an average growth rate. The more vigorous Diamond Mountain should be planted in containers that are at least 14-16" in diameter; the larger the pot the better.
Space the plants equally in the container so it fills out on all sides.
Use a good quality potting soil in your container. Better potting soils are light in texture and weight, and water drains easily through them.
Mix a bit of slow release plant food into the potting soil before you add the plants. Follow the package instructions to know how much to use. This will ensure a small amount of food is available to the plants' roots over the season.
Water your newly planted container immediately to help the soil settle in around the plants' roots.